Merkel to Attend Crisis Summit on Migration as Time Runs Short
(Bloomberg) -- German Chancellor Angela Merkel will meet with other European Union leaders for an emergency session on migration as the clock ticks for her to strike a deal to stem the flow of refugees or face mutiny within her governing coalition.
Merkel will gather with counterparts from Italy, Spain, Greece, Malta, Bulgaria, Austria and France on Sunday to try and reach a deal they can present at a full EU leaders summit at the end of next week. European Commission President Jean-Claude Juncker will host the gathering, the EU's executive arm said in a statement on Wednesday.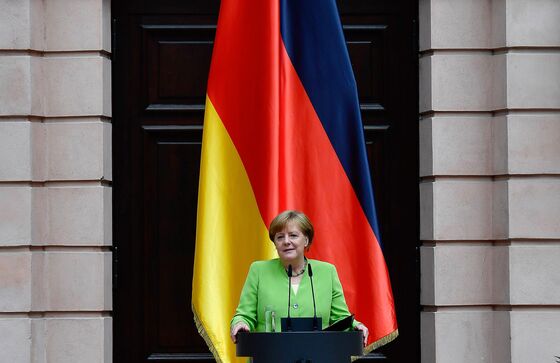 Merkel has promised her Bavarian allies in the government that she'll pursue bilateral deals to make sure that those who have applied for asylum elsewhere in the bloc don't seek refuge in Germany. Interior Minister Horst Seehofer, who leads the Christian Social Union, has threatened to defy the chancellor and start turning away migrants at the German border next month unless she concludes a Europewide agreement before then.
If Seehofer made good on his threat, Merkel would face having to fire him, possibly triggering a collapse of the governing coalition just months after it was formed. The revolt also is likely to embolden hardliners in other EU countries and beyond -- from Hungary and Austria to Italy and the U.S. -- who blame Merkel's moderate stance for an alleged existential risk to European societies.
"The summit on Sunday is not about German politics; it's about the solution to an immigration question that's long overdue," said Austrian Chancellor Sebastian Kurz, who governs in coalition with a far-right party. "Whether there's a result on Sunday already, if there's a result, how quickly will it be implemented, that's the question."
In an effort to appease hardliners, EU leaders will be asked back a joint statement saying the EU's current asylum system is "severely at risk" due to the movement of migrants from one country in the bloc to another, according to a draft of the conclusions dated Tuesday obtained by Bloomberg. Member states "should take all necessary internal legislative and administrative measures to counter such movements and to closely cooperate amongst each other."
The EU is also set to back "regional disembarkation platforms" to help deal with the migration influx in the Mediterranean, according to the draft conclusions. "Such platforms should provide for rapid processing to distinguish between economic migrants and those in need of international protection, and reduce the incentive to embark on perilous journeys."