Blankfein Cites a `Moral Imperative' to Stop Separating Families
(Bloomberg) -- Lloyd Blankfein condemned the Trump administration's policy of separating migrant children from their parents at the U.S. border, a day after stressing the complexity of the immigration issue.
"It's a moral imperative to stop separating families," the Goldman Sachs Group Inc. chief executive officer said Wednesday in a tweet.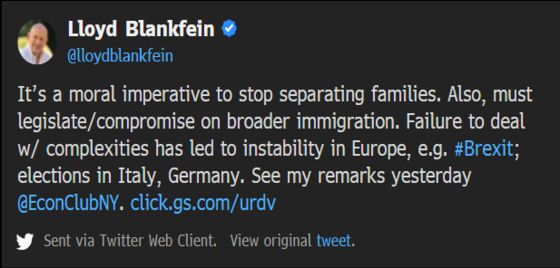 Trump's "zero tolerance" policy separating children from parents crossing the border illegally has sparked protests and calls for a legislative fix. The detentions have created a political crisis for Republican lawmakers trying to hold control of Congress in elections less than five months away.
On Tuesday, Blankfein touched on the immigration debate in the U.S. in a wide-ranging interview at the Economic Club of New York.
"Watching now is heart-rending and I wouldn't be on that side, but thank God I'm not there -- It's never right against wrong, good against evil," said Blankfein, who noted how immigration debates have roiled Europe. "Now what do you want to do? Both sides are right."