Mexico's Gaping Deficit Shows Signs of Election-Year Splurge
(Bloomberg) -- It's handout day in Atlacomulco, a couple of hours west of Mexico City. One white-haired woman zips past to catch the bus back to her village, bent under the weight of a boxful of free food that's almost as big as she is.
Alicia Reyes brought a shopping trolley, and has time to chat. She said her government-supplied package of rice, tuna, lentils and oil is twice the size it was three months earlier. She also noticed that officials in charge of the monthly distribution showed more interest than usual in her voter ID card, even jotting down a few details. Reyes, who's 64, suspects that both changes have something to do with the elections due in less than two weeks.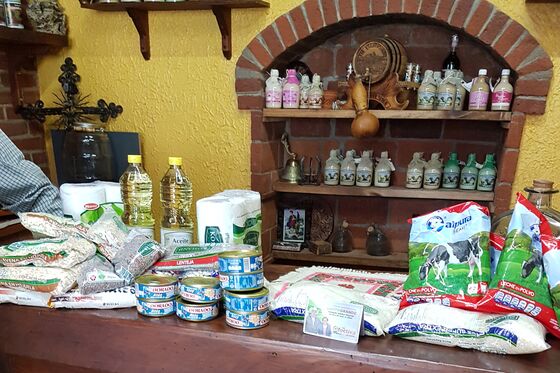 Mexico isn't usually a big deficit spender, especially by Latin American standards. That's what makes recent budget figures so striking. Federal expenditures shot up in the first quarter. The country posted a deficit equal to 2.9 percent of GDP, after the sharpest deterioration in at least a quarter-century, according to data compiled by Bloomberg.
Normally, Mexican fiscal caution would probably kick in after the vote, with an effort to bring the budget back toward balance. That should happen in the second half of this year, causing a slowdown in growth, said Marco Oviedo, chief Latin American economist at Barclays Plc.
But these aren't entirely normal times in Mexico. The July 1 election is set to deliver a decisive win for Andres Manuel Lopez Obrador, a leftist who's promising a new economic model based on redistributing wealth and boosting social programs. The new administration won't take office until December -- but if it's headed by Lopez Obrador, Mexicans and investors may have to get used to a different spending regime.
"This worries me a lot," said Valeria Moy, director of the think tank Mexico, Como Vamos. "If public finances are neglected this year, I don't know what's going to happen next year." She said it was evident that the government is pumping resources into the campaign.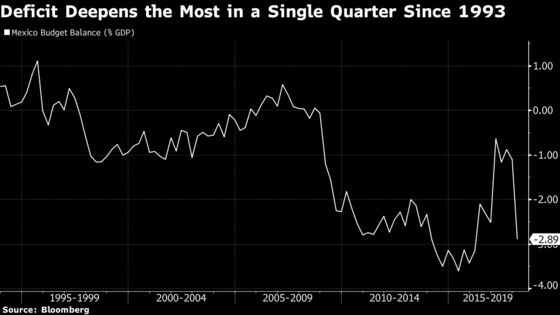 Mexico's budget discipline allows it to pay 75 basis points less to borrow than the average member of JPMorgan's global emerging-market bond index. But Citigroup Inc. has forecast the deficit would eventually swell under Lopez Obrador to 4 percent of GDP, the highest in decades. The candidate has pledged to remain fiscally conservative.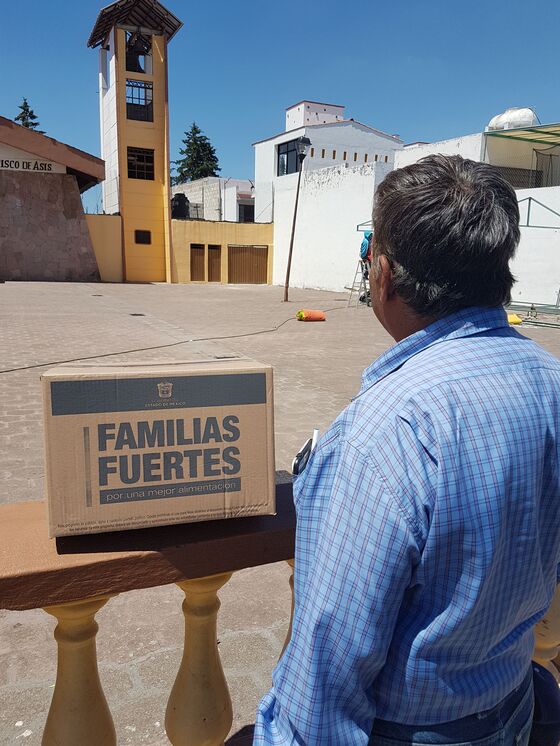 In Atlacomulco, a stronghold of the governing PRI party, any boost in social spending this year is seen as part of a fight for political survival. The PRI's presidential candidate is polling third and looks out of the running. The party is battling to stay relevant by holding on to local power as thousands of towns vote for mayors and state legislatures.
Jessica Tapia, who's in charge of doling out the 40-pound food boxes for senior citizens as part of a state government program, confirms that they've grown in size recently. But she said that has nothing to do with elections, and none of the recipients, mostly women from indigenous communities, were asked to vote for a specific candidate.
They don't have to be, according to Reyes. She says it's understood that subsidies wax and wane depending on election timetables -- and sometimes, whether your town votes for the winning party or not. Last year, before a vote for state governor, she got handed a couple of $60 coupons for free lab tests at a local hospital.
"We know it's a form of bribery," Reyes said. "But I won't change my vote." She didn't say who she'd cast it for.
Nationwide, subsidies paid out under the anti-poverty Prospera program, the biggest of its kind, jumped 35 percent in real terms in the first quarter, an increase of 12 billion pesos ($575 million) from last year, and 29 percent more than budgeted by congress.
"One could highly suspect, especially with social programs, that the government is allocating more resources there because of the election," said Jonathan Heath, an independent economist who designs reports for the Mexican Institute of Financial Executives.
Alberto Serdan, who runs an NGO called Citizens' Action Against Poverty, has identified surges in spending on temporary work programs, food kitchens, and supplies and materials. Outlays in another budget category, which lumps together payments held over from the previous year, were up 160 percent.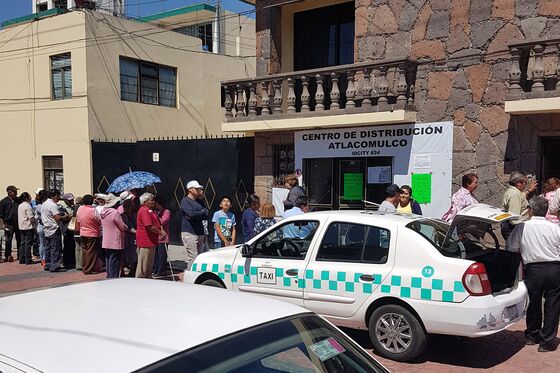 The Finance Ministry says revenue was lower in the first quarter because the government didn't receive a large exchange-rate surplus from the central bank, as it did last year. And it argues that spending rose partly because of payments into a budget stabilization fund held over from the previous year, according to the ministry's chief economist Alejandrina Salcedo, who said Mexico will meet its deficit goals. "At no time would the ministry deliver resources distinct from what the rules permit," she said.
Mexico's federal auditor has warned that the part of the budget that includes the stabilization fund leaves too much discretion to the government on how to spend it.
Election-year splurges rob the nation of a more consistent effort to alleviate the poverty in which some 50 percent of Mexicans live, Serdan said. That rate has barely budged for a quarter-century, a period in which the economy has grown at an annual pace of about 2.5 percent, less than half the developing-world average.
"The electoral use of these resources denies opportunities for prosperity and development for many people," he said. "And that compromises economic growth."