Merkel, Macron Reach Deal to Strengthen Euro Area Against Shocks
(Bloomberg) -- German Chancellor Angela Merkel and French President Emmanuel Macron agreed on a plan to strengthen the euro area, seeking to fortify Europe against financial crises and strengthen its global influence.
"This is an important step that Europe will be working on for a while," Merkel said alongside Macron during a highly anticipated meeting outside Berlin on Tuesday. "We can say that we've taken a small step along the road." Macron said the measures would boost "stability and solidarity" in the euro area.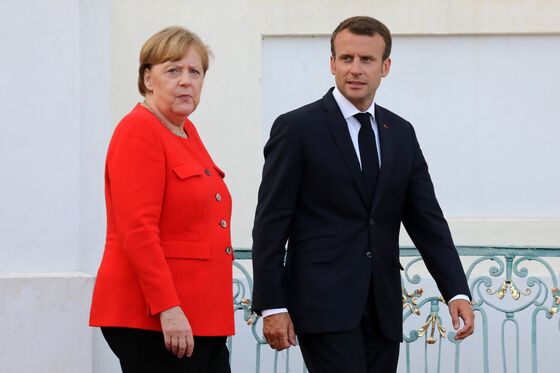 While details need to be worked out, the two biggest euro-area economies agreed in principle to set up a joint budget for the region, beef up the European Stability Mechanism and give it a greater role in designing and monitoring aid programs, and make the ESM the backstop to Europe's banking resolution fund.
Thirteen months after Macron took office in Paris, the accord signals a joint response by Europe's two key leaders to challenges from Brexit to discord over migration that's tugging at the European Union's core. Macron also broadly backed Merkel in a clash over migration policy with a Bavarian party that's part of her governing coalition.
France and Germany still need to get other governments on board with the euro-area plan. Macron suggested the proposal will be presented to other partners with the goal of working out specifics this year that would take effect by 2021. On the backstop for the resolution fund, the conclusions to the meeting said "its entry into force should be earlier than 2024."
Merkel said money for the budget could come from "national funds as well as, for example, income from a financial transaction tax and maybe European funds." Macron said the lack of details about the budget's size and resources aren't a setback.
"Where we had nothing before, we now have the basis of what makes a budget," he said.
Merkel said the ESM's crisis-response tools will be strengthened, including for "asymmetric shocks" to economies, and the fund will serve as a backstop for the EU's banking union.
While both sides made concessions to close a deal, they put off some of the trickiest decisions. These include specifics on the size and use of the budget, and on how the ESM will backstop the Single Resolution Fund, the EU's reserve for winding down failed banks. Who can decide that the backstop can be tapped has been a key sticking point among euro-area countries.
Merkel and Macron agreed to cooperate on migration reforms, defense cooperation and tax convergence.
They met against the backdrop of heightened tension over migration. Italy is insisting that other countries accept the migrant boats that have brought 700,000 people to its shores over the past decade, while Merkel's interior minister is threatening a government crisis over his plans to tighten border security.
Macron said they agreed on working more with origin and transit countries to prevent migrants boarding boats to Europe, beefing up the EU's Frontex border force and updating the Dublin accords that govern how asylum requests are treated.
Advisers to both leaders said they hadn't planned to spend much time on trade and U.S. President Donald Trump, having had their fill at the G-7 meeting in Quebec earlier this month.