Trump Is Said to Support Narrow Bill Ending Family Separations
(Bloomberg) -- President Donald Trump would support narrow legislation halting his administration's harshly criticized policy of separating children from their parents when they're caught illegally crossing the U.S. border with Mexico, an administration official said.
The president still would prefer that Congress pass one of two bills drafted by House Republicans that would also fund a border wall and curb legal immigration, said the official, who asked not to be identified describing the president's fallback position. But if both bills fail in votes House Speaker Paul Ryan set for Thursday, Trump is expected to support legislation aimed only at family separations, the official said.
Homeland Security Secretary Kirstjen Nielsen headed to the White House Wednesday morning with an order she drafted that would end the family separation policy, the Associated Press reported, citing unidentified sources. She planned to meet with Trump to see if he would sign it, though it wasn't clear whether the president would, the AP reported.
White House Press Secretary Sarah Huckabee Sanders confirmed that Nielsen had arrived at the White House but declined to discuss the purpose of her visit.
By expressing support for the narrow legislation, the White House is addressing the growing public furor over images of children taken from their parents.
But the signal undercuts pressure on Congress to pass broader legislation that would accomplish much of the president's agenda cutting legal and illegal immigration. And by leaving it up to Congress to end the policy rather than acting on his own, Trump assures the escalating crisis at the border will continue for weeks, if not longer.
Democrats are unlikely to support the broader Republican legislation because of the provisions cutting back legal immigration. Even before the administration revealed its backup position, House GOP leaders weren't certain they could muster 218 Republican votes to pass either of their bills.
Criticism of the president mounted at home and abroad. Pope Francis Wednesday condemned the Trump family separation policy as "immoral" and "contrary to our Catholic values" while British Prime Minister Theresa May called it "deeply disturbing" and "wrong."
Senate Democratic Leader Chuck Schumer said Wednesday that it's doubtful Republican leaders would advance a stand-alone narrow measure that would address the issue of family separations without including "poison pill" policies that would ignite Democratic opposition.
Schumer continued to insist that the best solution is for Trump to simply stop enforcing the new policy. He said Republican immigration hard-liners are seeking a legislative solution simply to reduce political pressure.
"They want to get this off their backs because they're feeling the heat, but they don't want to solve the problem," he said on the Senate floor.
Trump threw his support behind the two GOP immigration bills in a meeting Tuesday with House Republicans.
Trump told the Republicans he would sign either more restrictive immigration legislation backed by House conservatives or a compromise measure designed to appeal to more moderate Republicans.
"He endorsed both House immigration bills that build the wall, close legal loopholes, cancel the visa lottery, curb chain migration, and solve the border crisis and family separation issue by allowing for family detention and removal," White House spokesman Raj Shah said in a statement. "He told the members, 'I'm with you 100 percent.'"
Focusing on the narrower issue of family separation would give lawmakers a way to vote to end what polls show is a broadly unpopular policy without taking a politically risky stand on other immigration issues, including funding Trump's wall and giving some legal protections for immigrants brought to the U.S. illegally as children.
Two conservative groups slammed the compromise plan worked out to appease Republican moderates as "amnesty" for people in the U.S. illegally, a line of attack that has tended to sway House conservatives and has scuttled prior efforts on immigration legislation.
In the Senate, Republican leaders have shown no interest in reviving a broader debate about immigration after the failure of four competing proposals on the Senate floor earlier this year. Senator John Cornyn of Texas, the No. 2 Leader, has said they will wait to see if the House can clear a broad measure before making a determination whether to consider anything. 
Senate Majority Leader Mitch McConnell said Tuesday that he wants to advance, as early as this week, a narrow measure that would keep undocumented immigrant families together at the border while their claims are considered.
All 49 Senate Democrats earlier signed on to a measure sponsored by Senator Dianne Feinstein of California that would allow undocumented immigrant families to be separated only if a child is at risk of abuse or human trafficking. No Republicans have signed on, but Feinstein said Wednesday she plans to discuss a possible compromise with Texas GOP Senator Ted Cruz, who has introduced his own proposal.
"It's simple. You just can't separate a child from their parent," Feinstein said.
Cruz's plan would require hearings within 14 days of immigration cases involving parents who cross the border with their kids. It would mandate that families stay together unless there is a threat to the welfare of the child in doing so.
The legislation also would double the number of immigration judges from 375 to 750, and the new judges would prioritize claims of people who have children with them. No Democrats have signed on to the bill, which has 18 other GOP senators as co-sponsors, including Orrin Hatch and Mike Lee, both of Utah.
Other GOP senators are discussing other approaches that include shorter terms for expedited hearings, more funds for detention centers and immigration law changes they say would remove barriers to keeping families together. Republicans are expected to continue their talks at a weekly policy lunch meeting today.
The House Republican compromise legislation has been the subject of weeks of negotiations between GOP conservatives and moderates in consultation with the White House. It includes a provision requiring that families caught illegally crossing the border be held together by the Department of Homeland Security instead of transferring parents to the Justice Department for criminal proceedings.
The compromise bill authorizes $23.4 billion for Trump's border wall and includes an appropriation schedule to provide that total in installments by 2026. Conservatives also cheered the bill's end to the diversity lottery visa for people from underrepresented countries and limits on the categories of family members that citizens can sponsor for visas.
The bill also allows Dreamers -- young immigrants brought to the U.S. illegally as children -- a temporary legal status with a new point system they can earn through education, work and military service. Those merit-based points determine the order in which Dreamers and some other classes of legal immigrants can apply for a yearly pool of visas, which will put them on the path to citizenship.
Another change made Tuesday in the House bill would provide $7 billion of the funds meant for border technology to add facilities to detain families together, according to an aide familiar with the changes.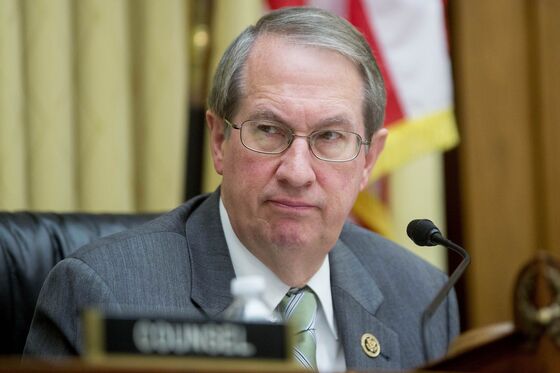 The other more conservative bill sponsored by House Judiciary Committee Chairman Bob Goodlatte of Virginia, is also expected to get a floor vote on Thursday. It would not only authorize construction of the border wall, end the diversity lottery visa and eliminate family preference visas, but it would also mandate use of the E-verify system to determine the immigration status of workers and implementation of biometric entry and exit systems at all ports of entry. Some Republicans from districts that rely on agriculture, construction and service industries say the E-verify provision, without a viable guest worker program, would leave their companies and farms without the labor they need to operate.
Both bills make changes to the process of seeking asylum, and both would clarify a 1997 court settlement that limits the amount of time children can spend in custody -- the ruling that Ryan cited to explain why the Trump administration is separating families at the border. The compromise bill goes a bit further with the additional DHS funds for family detention housing.