U.S., South Korea Suspend Military Drill Planned for August
(Bloomberg) -- A joint military drill between the U.S. and South Korea aimed at preparing to defend the latter from a possible attack by North Korea is delayed indefinitely, South Korea's military said.
The two allies decided to suspend the Ulchi Freedom Guardian exercise, initially planned for August, while leaving the outcome of other regular joint military drills undecided, the Defense Ministry said in a text message.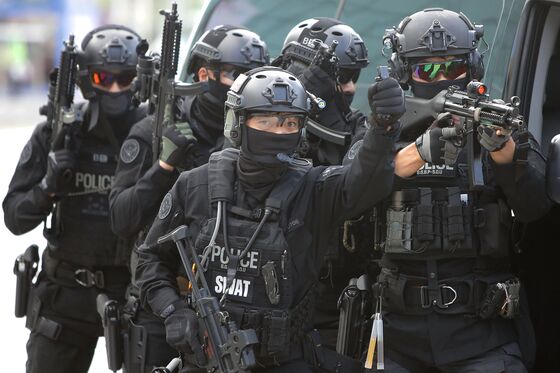 The move follows U.S. President Donald Trump's intent to suspend what he described as "very expensive" and "provocative" war games after meeting the North Korean leader Kim Jong Un last week in Singapore for the first-ever meeting between a sitting U.S. president and the rogue nation's dictator.
This is not the first time a joint military exercise has been suspended. In the 1990s, the allies suspended the Team Spirit exercise several times to encourage Pyongyang to take steps to stop development of nuclear weapons. The exercise was eventually terminated and restarted later as the annual Foal Eagle and Key Resolve drills.
Trump in January agreed to pause annual joint military drills with South Korea while the country hosted the Winter Olympics in February.