Trump's Family Separations Bedevil GOP as Public Outrage Grows
(Bloomberg) -- Donald Trump's policy of separating immigrant children from parents who illegally cross the Mexican border threatens to balloon into an election-year headache for Republicans, as the president's administration struggles to explain and defend a practice questioned even by his wife.
Trump sought to cast blame for the images of children pulled from their mothers on Democrats, saying it is the opposition party's "fault for being weak and ineffective" on stopping illegal border crossings.
He added in a series of tweets Monday morning that "Children are being used by some of the worst criminals on earth as a means to enter our country."
Former first lady Laura Bush, a beloved figure among many Republicans, joined in criticizing Trump, writing in an op-ed published by the Washington Post late Sunday: "This zero-tolerance policy is cruel. It is immoral. And it breaks my heart."
First Lady Melania Trump, herself an immigrant, made a rare foray into policy matters on Sunday with a statement that the U.S. must be a country that "governs with heart." Kirstjen Nielsen, the Homeland Security secretary, took to Twitter late in the day in an effort to clarify the administration's handling of undocumented immigrant children.
"We do not have a policy of separating families at the border. Period," Nielsen said in one tweet, a statement that contradicts the president.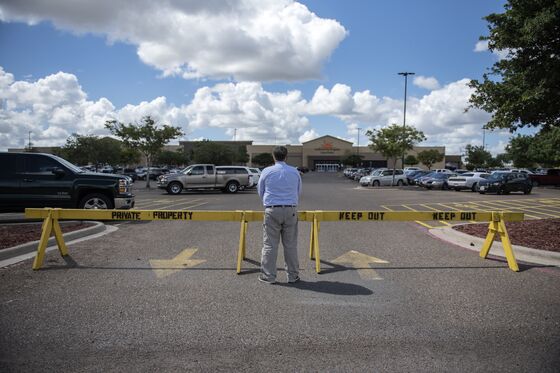 Several prominent Democrats spent Father's Day crisscrossing the Rio Grande Valley in Texas to meet with U.S. border authorities and tour detention centers for apprehended children, including a former Walmart Inc. store that's been converted into a shelter for almost 1,500 immigrant boys.
The delegation to McAllen, Texas, was led by Senators Jeff Merkley of Oregon and Chris Van Hollen of Maryland. Merkley hasn't ruled out running for president in 2020, while Van Hollen is in charge of Senate Democrats' 2018 campaign committee.
"What the president has discovered is this policy, which he put in place six weeks ago, is creating an uproar among the American people," Van Hollen said in an interview in Brownsville, Texas. "This is something that transcends politics. This is about moms and dads imagining their children being taken from them."
Julian Castro, the former San Antonio mayor who served as Housing and Urban Development secretary in the Obama administration, joined protesters outside a border patrol processing center in McAllen, where temperatures hit 97F (36C) at mid-afternoon.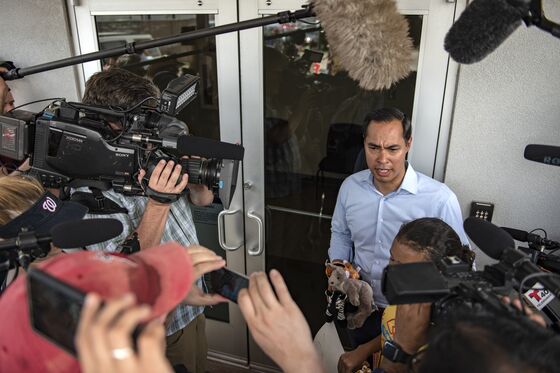 "It amounts essentially to state-sponsored child abuse that is traumatizing young children by taking them away from their parents, not letting them know when they're going to see their parents again, keeping them in conditions that we wouldn't want any of our children in," Castro said in an interview outside the border patrol center. He, too, is considered a potential 2020 presidential contender.
Trump administration officials say the policy is intended to deter undocumented immigrants from making the trek to the U.S. border with their children. But the president has repeatedly blamed Democrats, citing an unspecified law that he says requires children to be taken from parents who cross the border illegally.
White House officials are unable to cite any part of U.S. law that dictates the separations, which were initiated in April after Attorney General Jeff Sessions announced "zero tolerance" for unlawful border crossings. Adults apprehended after crossing the border outside an official port of entry are to be arrested and prosecuted under Sessions' decree, which leads to their children being removed.
Previously, border authorities often issued notices to appear in court to families apprehended crossing the border who claimed asylum, then released them. Trump has derided that practice as "catch and release," arguing that many of the immigrants never appear for court proceedings.
The administration and some Republican lawmakers have pointed to a 1997 court settlement regarding the treatment of immigrant children in federal custody as legal justification of Sessions' new policy.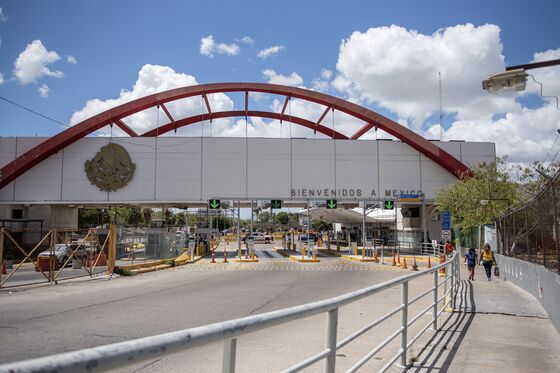 The U.S. separated about 1,995 children from their parents and detained them between mid-April and May 31, according to the Office of Refugee Resettlement at the Department of Health and Human Services, which is responsible for their care. Republican Senator Susan Collins of Maine said Sunday the number "may well be higher."
On Friday, Trump hinted in a tweet that the policy is intended as political leverage to force Democratic lawmakers to agree to changes to immigration law containing elements they oppose, including the construction of a wall on the U.S.-Mexico border.
"The Democrats are forcing the breakup of families at the Border with their horrible and cruel legislative agenda," Trump said on Twitter. "Any Immigration Bill MUST HAVE full funding for the Wall, end Catch & Release, Visa Lottery and Chain, and go to Merit Based Immigration. Go for it! WIN!"
In Texas, Merkley said at a news conference that "hurting kids to get legislative leverage is unacceptable. It is evil."
Representative Mark Pocan, a Wisconsin Democrat who joined Merkley and Van Hollen in Texas, said that he thinks Trump believes the policy is popular with his political base.
"While he thinks it's something that works well for that 35 percent that still adore him, it doesn't work well for their party in November," he said in an interview. "I think they're way miscalculating."
The first lady issued a statement on Sunday through spokeswoman Stephanie Grisham: "Mrs. Trump hates to see children separated from their families and hopes both sides of the aisle can finally come together to achieve successful immigration reform. She believes we need to be a country that follows all laws, but also a country that governs with heart."
Democrats have refused to consent to the border wall or restrictions to legal immigration Trump has demanded, and instead hope to block family separations with standalone legislation.
California Senator Dianne Feinstein has the support of 48 senators, all Democrats, for a bill in her chamber, she said on Twitter Sunday. Senator Claire McCaskill of Missouri, one of the most vulnerable red-state Democrats up for re-election this year, said Sunday on Twitter that she would sign onto the bill this week and focus on the issue in her capacity as the top Democrat on the Homeland Security Committee.
Realizing the emotional resonance of the issue, House Republican leaders inserted a provision to block the Department of Homeland Security from separating parents and children in an immigration bill expected to be debated this week. The legislation wouldn't explicitly forbid the incarceration of children alongside their parents.
The fate of that bill is unclear, as the White House has sent mixed messages on whether Trump supports it or an alternative, more conservative immigration measure also expected to receive a vote.
Two Republican senators, Collins and Arizona's Jeff Flake, said Sunday they'd written to DHS's Nielsen to demand an explanation of the policy.
"It is critical that Congress fully understands how our nation's laws are being implemented on the ground, especially when the well-being of young children is at stake," they wrote.
Nielsen sent five Twitter messages Sunday evening in response to the lawmakers.
"As I have said many times before, if you are seeking asylum for your family, there is no reason to break the law and illegally cross between ports of entry," she said in one post. A subsequent message said: "For those seeking asylum at ports of entry, we have continued the policy from previous Administrations and will only separate if the child is in danger, there is no custodial relationship between 'family' members, or if the adult has broken a law."
Immigration advocates and Democrats say the administration has made it exceedingly difficult to claim asylum at official ports of entry. Sessions has also ordered that immigrants can no longer be granted asylum based on threats of gang or domestic violence, a major cause of migration from Central America.
Merkley, who drew national attention to the separation policy two weeks ago when officials blocked him from entering the Walmart-turned-detention-center in Brownsville, made a return visit to the facility on Sunday. He also planned stops at a border patrol station and a port of entry.
"Under no moral code, under no religious tradition, is this acceptable," Merkley said. "And it has to end."