Spain's Sanchez Abandons His Pledge to Call Early Elections
(Bloomberg) -- Prime Minister Pedro Sanchez dropped his pledge to call an early election in Spain less than three weeks after taking office
In his first interview since ousting Mariano Rajoy with a no-confidence vote on June 1, 46-year-old Sanchez said he aims to see out the final two years of the parliamentary term.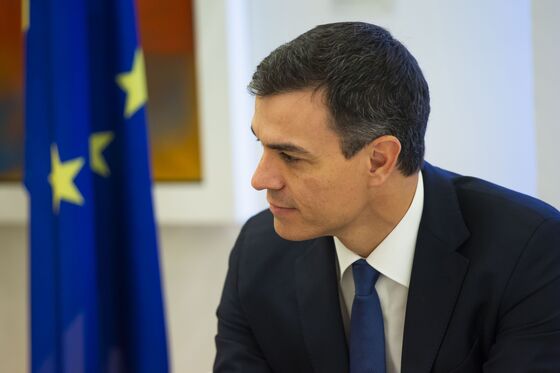 "I plan to call elections in 2020, and so to see out the legislature," Sanchez told state television broadcaster TVE Monday. "After the confidence motion, we need a period of time to get back to normal before calling an election."
Sanchez lined up a cross-party alliance to topple Rajoy after the National Court ruled his party had benefited from an illegal funding ring. With only 84 Socialist deputies to help steer legislation through a 350-seat parliament, Sanchez's ability to govern effectively rests on his ability to build consensus to tackle challenges such as the campaign by Catalan separatists to split from Spain.
Sanchez has so far seized on issues attracting widespread voter support as he seeks to establish himself. He said Spain would take in a migrant rescue ship turned away from Italy and then Malta and won widespread praise for making the majority of his ministers women.
He said he will begin getting to know his European colleagues with a meeting in Paris Saturday and will then visit Berlin and Lisbon. He'll make his summit debut when all 28 European Union leaders gather in Brussels next week. Sanchez said his objective for that meeting will be to agree a common deposit guarantee fund to complete the EU banking union.
The separatist challenge in Catalonia is the most important issue facing the new government, a Bloomberg survey of economists showed Monday. Sanchez said he aims to meet the pro-independence president of Catalonia, Joaquim Torra, early next month as he looks to rebuild the region's relationship with the rest of Spain.
"The goal is not just to have a courtesy meeting but also to reactivate some cooperation mechanisms like the bilateral committee between the Spanish and Catalan governments which haven't been used since 2011," he said.
He said it would be "reasonable" for separatist leaders held in jails near Madrid to be moved to their home region after the criminal investigation into potential rebellion charges is completed.
His government will also seek to remove the remains of the dictator Francisco Franco from a mausoleum outside Madrid. The proposal, aimed at ensuring the dead from both sides of Spain's Civil War are given equal respect, is likely to have broad support in Parliament.
"As a consolidated European democracy, Spain can't allow symbols of division," he said. "That's something that you couldn't imagine in Germany or Italy -- countries that also faced fascist dictatorships -- and it shouldn't be imaginable in our country either."
Even though he has no popular mandate to be prime minister, Sanchez is so far enjoying a honeymoon with Spanish voters.
His Socialist party has jumped from third to first in opinion polls and would have the support of 27.1 percent of voters, compared with 24.9 percent for Rajoy's People's Party, according to a survey by Instituto DYM published by El Independiente. That confirms a trend seen in at least other three other surveys since he took office.