Trump Derides German `Leadership' in Slap at Migrant Crisis
(Bloomberg) -- President Donald Trump waded into Germany's debate over asylum and refugee policy, criticizing the government's stance on migration and suggesting that its days were numbered.
Trump, who regularly lambastes Germany in his Twitter tirades, launched an unusually pointed attack on Chancellor Angela Merkel's coalition, asserting that its migration policy was responsible for driving up crime rates. He made his remarks just as Merkel made a concession to her coalition partner on its demand for a tougher line on asylum.
"The people of Germany are turning against their leadership as migration is rocking the already tenuous Berlin coalition," wrote Trump. "Crime in Germany is way up. Big mistake made all over Europe in allowing millions of people in who have so strongly and violently changed their culture!"
The president is under pressure over the U.S. policy of separating immigrant children from parents who illegally cross the Mexican border. But official statistics don't support his line of attack. Germany registered 5.76 million crimes in 2017, a 9.6 percent decline from the previous year and the lowest rate since at least 2003, according to its federal police office, or BKA. The number of suspects that were immigrants fell 41 percent.
Trump's intervention came as Merkel accepted a two-week deadline to forge a European agreement on tougher migration policy, a concession to her Bavarian coalition partner that eases an immediate standoff without removing the threat of further government tension down the road.
Interior Minister Horst Seehofer, who heads Bavaria's Christian Social Union party, insisted the chancellor reach a deal by the end of June with European Union governments to facilitate the return of migrants to those countries where they were first registered.
Merkel will now attempt to forge a deal by an EU summit on June 28-29, and will report back to her Christian Democratic Union on July 1.
"Whoever knows Europe, realizes this is no easy task," Merkel told reporters in Berlin on Monday after a meeting of her CDU party's executive. But "the European project is at risk," and "we have a particular responsibility," she said.
Seehofer, who heads one of three parties in Merkel's coalition, defied the chancellor with plans to order migrants turned away from Germany's borders as soon as Monday. In accepting the compromise, Merkel looks to be having a last throw of the dice to avert unilateral action by Germany that she argues would risk a "domino effect," collapsing the entire EU asylum process and unraveling the bloc's already frayed unity.
'Indispensable' Rejections
"We do not really have a handle on this whole issue of migration," Seehofer told reporters in Munich as Merkel spoke in Berlin.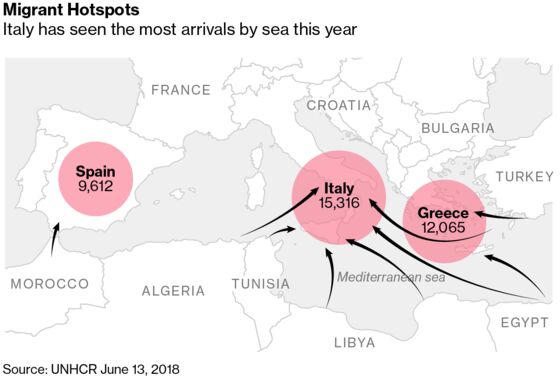 The defiance by Merkel's smaller, more conservative Bavarian sister party is still a blow to the chancellor and will further embolden the hard-line stances of countries such as Hungary, Italy and Austria. Even with a sharp decline in the numbers crossing to Europe over the Mediterranean, migration has surged to the top of the political agenda.
Trump followed up his initial criticism of Germany with a second tweet: "We don't want what is happening with immigration in Europe to happen to us!"