May's Warring Brexit Tribes Hold Coffee Shop Peace Summit
(Bloomberg) -- The leaders of the two wings of U.K. Prime Minister Theresa May's feuding Conservative Party held peace talks Monday in one of Parliament's most public venues.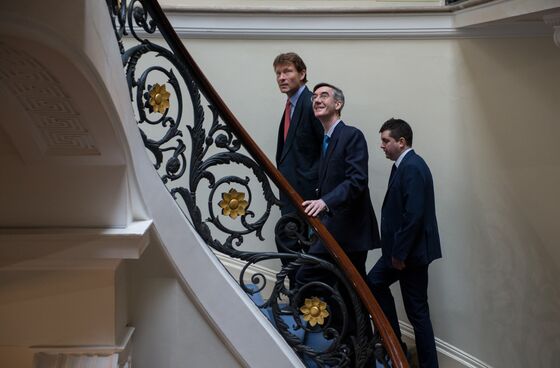 Jacob Rees-Mogg, chairman of the pro-Brexit European Research Group, and Dominic Grieve, who is trying to ensure ministers can't leave the European Union without a deal, spent 25 minutes discussing their differences sitting in the Despatch Box cafe in Portcullis House, as fascinated colleagues looked on.
The pair are on opposite sides in the fight over whether Parliament should have a so-called meaningful vote on whatever agreement May negotiates with the EU. Grieve thought he'd reached a deal with the government Thursday, only for talks to break down at the last minute. The upper House of Lords is set to reject the government's proposal in favor of Grieve's on Monday evening, setting up a showdown in the lower House of Commons on Wednesday.
A person familiar with the conversation, who asked not to be identified because it was private, said the two men met in an effort to understand each other's positions. Not only are they in the same party, they're both also Christians -- Rees-Mogg a Roman Catholic, and Grieve in the Church of England.
They were interrupted at various times by other lawmakers, including Defence Secretary Gavin Williamson, who until last year was responsible for party discipline as Chief Whip, and Damian Green, who as First Secretary of State was May's effective deputy.
Though Bloomberg reporters didn't hear their conversation, we can reveal that Remainer Grieve paid for Brexiter Rees-Mogg's drink.
Asked about Grieve at an event Monday evening, Rees-Mogg said he is a fan.
"I have the highest view of Dominic Grieve," he said. "I think he's one of the cleverest men if not the cleverest man, in the House of Commons.
"In terms of room for compromise, I think the government has given him everything he asked for. An unamendable motion is parliamentary accountability. An amendable motion could be used to stop Brexit," he said. "I think Dominic Grieve has already won."