Italy's Anti-Migrant League Tops Five Star in Poll for 1st Time
(Bloomberg) -- Italy's League has overtaken the Five Star Movement in voter support and become the country's leading party in an opinion poll for the first time, according to a survey by SWG to be be aired on television channel LA7 later on Monday.
Support for the rightist party, led by Interior Minister Matteo Salvini, has reached an all-time high of 29.2 percent, compared with 29 percent for Luigi Di Maio's Five Star, a poll conducted by SWG June 13-18 found. The results were released early by LA7 in a posting on Twitter.
While the poll shows the two populist parties are now virtually tied among voters, support for the League has surged since general elections on March 4. The League, which ran as part of a center-right coalition with Silvio Berlusconi's Forza Italia, garnered 17.4 percent of votes in March, suggesting that Salvini's recent hard-line posturing on migrants is resonating with voters.
Shortly after taking over the interior ministry, Salvini announced measures to prevent migrant vessels crossing the Mediterranean from reaching Italian ports, creating a spat between Rome and European Union allies including Malta and France.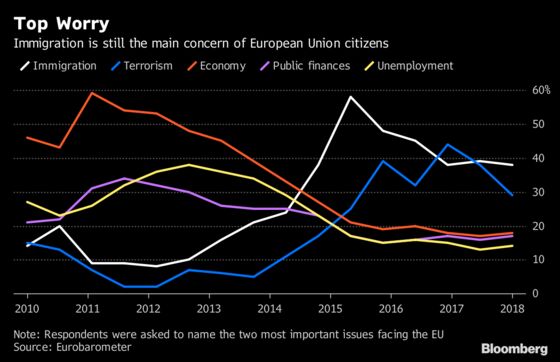 Almost 60 percent of Italians are in favor of closing the country's ports to migrant ships, Ferdinando Pagnoncelli, president of polling company Ipsos Italia, wrote Saturday in daily Corriere della Sera, citing a survey conducted June 12-13.
In terms of popularity among voters, the League has been the biggest beneficiary of the combined government so far, with support up 7.7 percentage points to 25.1 percent from the March 4 elections, according to a Friday YouTrend poll of polls for news agency Agi, which aggregates data from six pollsters. That gain was partly at the expense of Forza Italia, which lost 3.1 points. The same data show Five Star losing about 2.4 points since the vote.
Support for the center-left Democratic Party, the biggest loser in the elections, when it went from leading the government to picking up just 18.8 percent of votes, was unchanged in the SWG poll compared with the March showing.