FBI's Strzok Says He'll Testify to Congress on Anti-Trump Texts
(Bloomberg) -- FBI official Peter Strzok volunteered to testify to Congress, even as President Donald Trump attacked him as "a sick loser" for the anti-Trump texts he exchanged with another bureau official.
While Republicans have said they will subpoena Strzok to testify, his lawyer Aitan Goelman wrote leaders of the House Judiciary Committee that such efforts are "totally unnecessary."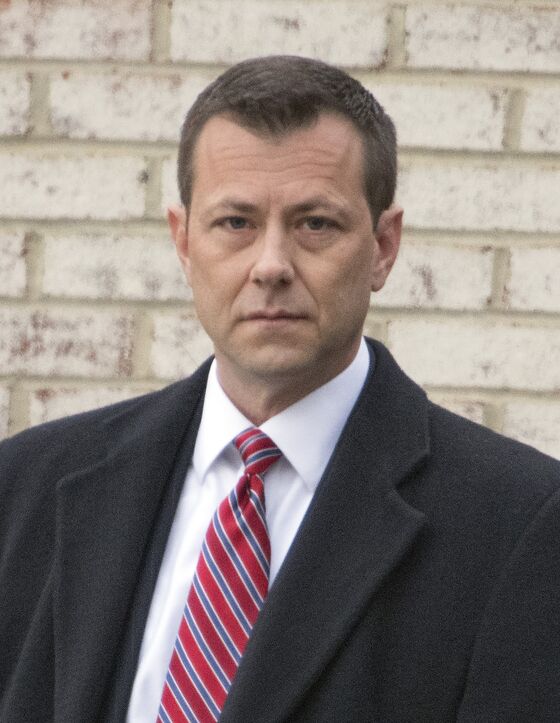 "Special Agent Strzok, who has been fully cooperative with the DOJ Office of Inspector General, intends to voluntarily appear before your committee and any other congressional committee that invites him," Goelman wrote in letters to Judiciary Chairman Bob Goodlatte and Jerrold Nadler, the panel's top Democrat.
Last week's release of a report by the Justice Department's inspector general on accusations of misconduct at the FBI has created fresh fodder for Republican attempts to undercut Special Counsel Robert Mueller's probe into Russian meddling in the 2016 election. While anti-Trump texts between Strzok and Page were revealed months ago, Republicans zeroed in on an exchange first disclosed in the new report.
In the Aug. 8, 2016 exchange, Page questioned whether Trump would become president. Strzok replied: "No. No he's not. We'll stop it."
In a tweet Sunday evening, Trump said, "Why was the FBI's sick loser, Peter Strzok, working on the totally discredited Mueller team of 13 Angry & Conflicted Democrats, when Strzok was giving Crooked Hillary a free pass yet telling his lover, lawyer Lisa Page, that we'll stop Trump from becoming President? Witch Hunt!"
Trump later added, "Also remember that they all worked for Slippery James Comey and that Comey is best friends with Robert Mueller. A really sick deal, isn't it?"
While Trump, who fired Comey as FBI director, frequently attacks Mueller's team as a cabal of Democrats, Mueller is a longtime Republican.
Strzok was the lead FBI agent in the investigation of Democrat Hillary Clinton's use of a private email server and was involved in any early phase of the FBI's Russia investigation, before Mueller was appointed. When his anti-Trump texts were discovered, Mueller removed him from the investigation into Russia meddling, whether anyone close to Trump colluded in it and whether Trump sought to obstruct the probe.
Page was an FBI lawyer but has since left the agency.