Lula Busy in Jail Commentating on World Cup and Fundraising
(Bloomberg) -- Broke, behind bars and likely to be barred from running for office, Luiz Inacio Lula da Silva has nevertheless raised more funds than any other of Brazil's presidential election candidates and he's keeping himself in the spotlight as a World Cup pundit.
Lula, the opinion poll leader from the Workers' Party or PT, beats his rivals in terms of crowdfunding, having raised 268,000 reais ($72,000) in 10 days, according to his press office. Over the following weeks, the former trade union leader and avid football fan will also share his thoughts on some of the World Cup games via letters delivered by his lawyers to union-run TV and radio stations.
With limited public funds for campaigning and a ban on corporate donations, electoral authorities are allowing parties to raise money via crowdfunding, a term used to describe individual donations via the Internet. Lula's fund-raising and media savvy show how his Workers' Party remains arguably the largest and most organized grass-roots network in the country. While far-right ex-Army captain Jair Bolsonaro, currently running second to Lula, has the largest following on social media, the PT can rely on a highly-ideological driven support base drawn from mass movements of blue-collar workers and churchgoers.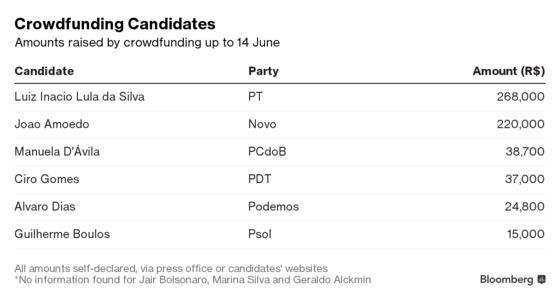 The Brazilian Social Democracy Party said it would launch online fund-raising for Geraldo Alckmin, former Sao Paulo governor and presidential candidate, in coming days. Phone calls to the press officers of Marina Silva and Jair Bolsonaro, candidates for the Rede and PSL parties, respectively, went unanswered.