Competitive Fight for U.S. House Brings Big Jump in Ad Spending
(Bloomberg) -- The intensity of the fight for the U.S. House is playing out on the nation's television screens where the number of campaign ads is up more than 50 percent from where it was at the same point in the most recent comparable election year.
The surge reflects the high stakes faced by both parties and special interests trying to influence the first midterm election of Donald Trump's presidency, with the outcome determining whether Democrats can bring his agenda to a dead stop if they win control of at least one chamber of Congress from Republicans.
The increase is also being driven by the unusually large number of retirements among House members. The open seats created by those departures have prompted scores of Republican and Democrats to jump into competitive primaries, sometimes with multiple candidates competing in a district for their party's nomination.
Through June 11, more than 128,000 House campaign spots had run on broadcast TV, according to data from Kantar Media's CMAG, which tracks political advertising. That's up 54 percent from the same period in 2014 and represents estimated spending of just shy of $40 million.
The San Diego market, which includes a California district where 12 candidates were vying for an open Republican-held seat that's expected to be competitive in November, had the biggest barrage of ads in the nation so far.
"More advertising is the ultimate tell of how competitive this year is and where the real action in races is at," said Ken Goldstein, a University of San Francisco political science professor who has studied campaign advertising for three decades. "People will often talk about races being competitive. But if they're advertising, it's competitive."
Democrats need a net gain of 23 seats to win the House and the party has reason to be optimistic about achieving that goal in November's election. The party will have a harder time reversing the 51-49 Republican majority in the Senate because they are defending far more seats than the GOP this year, including in 10 states where Trump won in 2016.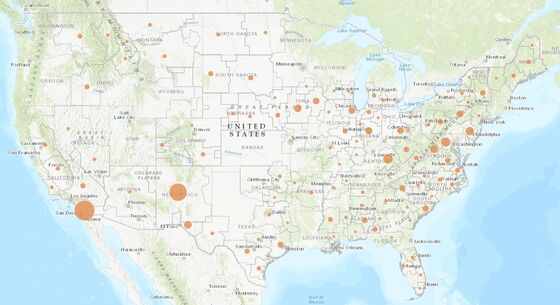 Bloomberg's analysis didn't include ads aired in connection with special elections because those totals vary from year to year. The numbers would be even higher if those contests were included.
The vast majority of this year's ads in House campaigns have been for primary and runoff elections, although more than 6,000 have already been targeted at general election voters in 17 congressional districts. Most of those districts are rated as competitive by the nonpartisan Cook Political Report.
The spending on TV spots is likely to grow significantly as campaigns ramp up, with the heaviest advertising typically not arriving until after Labor Day.
The Congressional Leadership Fund, a super political action committee endorsed by House Speaker Paul Ryan and other GOP leaders, said last week that it has placed a total of $50 million in broadcast and cable reservations for the fall. Pro-Democratic committees are almost certain to match those dollars.
Kantar Media is forecasting that $2.4 billion will be spent on broadcast TV ads during the current two-year election cycle, including those for the House, Senate and races for state and local offices. That would be an increase of 14 percent when compared to the 2014 cycle.
The firm's predictions suggest campaign spending on local cable TV ads will grow more than 40 percent to $850 million, while expenditures for Internet ads will more than double to reach $600 million.
"Local TV is still king, but local cable's ability to more precisely target viewers and geographies are great assets in this election where House districts and state legislative districts don't always conform neatly to television market lines," said Steve Passwaiter, a vice president and general manager at Kantar Media/CMAG.
House campaign ads have already been broadcast so far this year in 112 of the nation's 210 television markets, not including special elections. That's up from 95 at this point in 2014.
The advertising barrage is a windfall for stations near districts seeing the heaviest activity.
Top 2018 markets so far for broadcast TV ads in House campaigns
| | |
| --- | --- |
| San Diego, California | 12,030 |
| Albuquerque, New Mexico | 10,678 |
| Lexington, Kentucky | 4,745 |
| Washington, D.C. | 4,506 |
| Philadelphia, Pennsylvania | 3,913 |
| Harrisburg, Pennsylvania | 3,710 |
| El Paso, Texas | 3,616 |
| Des Moines, Iowa | 3,279 |
| Indianapolis, Indiana | 3,035 |
| Wilkes-Barre, Pennsylvania | 2,969 |
Source: Bloomberg analysis of data from Kantar Media's CMAG
The San Diego area includes the 49th congressional district, where eight Republicans and four Democrats competed in a June 5 primary to succeed retiring Representative Darrell Issa. For November, the district is rated as "lean Democratic" by Cook.
More than half of the House spots broadcast in the San Diego market so far were run by businessman Paul Kerr, a Democratic who finished seventh in the primary after spending at least $4.5 million on advertising and other expenses.
After Kerr, the top advertiser on a total spot basis is dermatologist John Joyce, a Republican who won the May 15 primary in Pennsylvania's 13th congressional district, defeating seven rivals. He's unlikely to advertise as much after winning the primary because the rural district is rated as "solid Republican" by Cook.
KOB-TV, the NBC affiliate in Albuquerque, has broadcast more House race campaign ads -- 2,711 -- than any other station so far in 2018. That market saw an abundance of advertising leading up to New Mexico's June 5 primary because four Republicans and two Democrats competed to fill a seat being vacated by Republican Representative Steve Pearce, who is running for governor.