Brexit's Champagne Populists
(Bloomberg Opinion) -- Investors wondering whether U.K. assets are vulnerable to yet more damage from Brexit would do well to note the behavior of the most ardent, and affluent, euroskeptics.
There has been a string of awkwardly timed revelations in recent weeks. Whether it's Jacob Rees-Mogg's asset management firm setting up a feeder fund in Dublin, or Conservative peer Nigel Lawson applying for French residency, self-preservation looks to be the order of the day. All this, of course, has nothing to do with Brexit.
It is certainly true that Irish funds existed before the 2016 referendum, along with the Cayman Islands and Luxembourg. Tax efficiency, rather than the presence of Brussels bureaucrats, has been their prime appeal. It is also true that Lawson, like many Brits, has lived for years in France.
Some would argue these revelations are worthy of a wry smile, nothing more. But it's hard to escape the feeling that certain sections of society are more protected than others as the U.K. sets about unpicking ties with its biggest trading partner.
It might be just a happy coincidence, but Dublin-domiciled funds are being pitched as one, perhaps flawed, way for asset managers to keep the passport that would allow them to offer services across the European Union after Brexit. And living out one's retirement in France or Spain is hardly a dream open to everyone, least of all the millennials who will effectively inherit Brexit.
Context is everything. Most Brits won't be able to protect themselves against the weak pound or the likely cost of funding Theresa May's "Brexit dividend" of extra spending on the National Health Service. According to the Financial Times,  a no-deal Brexit would cost every U.K. household 1,000 pounds ($1,300) a year, with the poorest families being hit the hardest.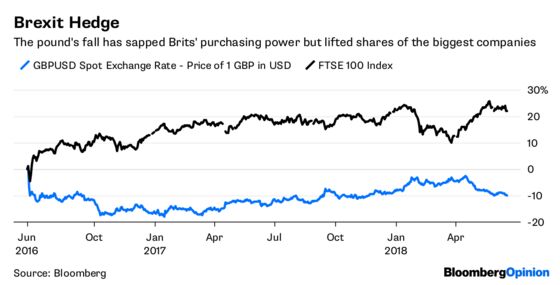 The insistence that Brexit's top backers are somehow above personal gain in these matters rings hollow. Rees-Mogg has promised a new economic dawn for the U.K. if it slashes financial regulation, cuts corporate tax and waves in cheap imports from outside the EU — which would create a more "competitive" environment for businesses like his.
"I have an investment management company," he told Citywire in July 2016. EU rules "add considerable weight of bureaucracy to running a business."
He has called for taxes on foreign nationals' earnings in the U.K. to be suspended to encourage "wealth creators" to come to the U.K. after Brexit. As supposedly decisive as the referendum was, this isn't the kind of thing that was being promoted in the polling booths.

And while those who put millions down for the campaign itself bask in the courage of their convictions, there always seems to be an artful trade not far behind.
Hedge-fund titan and Brexit donor Crispin Odey profited from bearish bets on the pound the day after the vote; earlier this year, he piled up trades against U.K. government debt and the stock market. He may just be doing his job, but it does suggest even Brexit's fans know there's more pain to come.
Many of those who backed Brexit have long mocked the kind of left-winger who lives in luxury as champagne socialists. But those who advocate a clean break with the EU while sheltering themselves from the fallout could equally be called champagne populists.