Brazil Central Bank Said to See Swap Volume as Unsustainable
(Bloomberg) -- Brazil's central bank cannot sustain its current campaign to combat currency volatility until general elections in October, according to a central bank official familiar with the board's thinking. 
Maintaining the pace of currency swaps sales would mean the stock would exceed the amount Brazil has in international reserves, the person said. The central bank remains willing to intervene with international reserves if necessary, said the person, who requested to remain anonymous.
The real reversed gains and fell 0.6 percent after the story was published.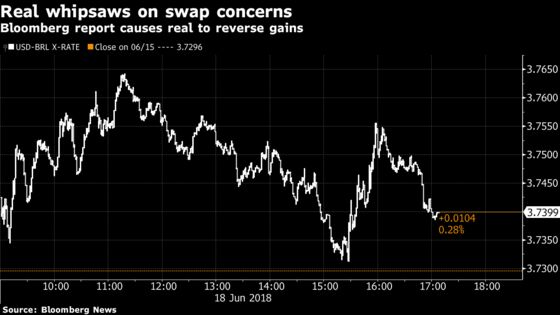 "The Central Bank does not recognize 'off-the-record' statements, especially by supposedly 'high-ranking central bank sources," the central bank's press office said by e-mail. The bank reiterated its message in a statement on its website after the Bloomberg story was published.
Brazil's central bank, led by its President Ilan Goldfajn, has offered $26 billion dollars worth of foreign-exchange swaps in just over a week in an effort to reduce the currency's volatility. The real, which has fallen by about 12 percent this year, is reacting to both an emerging market selloff that's prompted policy maker action from Argentina to Indonesia, as well as prospects of a weaker-than-expected domestic recovery and uncertainty surrounding presidential elections.
"Resorting to FX intervention via reserves is a rather extreme move, given the long and successful use of swaps," said Alvise Marino a foreign-exchange strategist at Credit Suisse in New York. "The risk is that if the swap program were to prove insufficient to stop the currency from weakening further, the ability to announce another large increase in swap intervention would be limited by the already poor fiscal outlook."
The central bank is likely to reduce the amount of swaps it offers and sell dollars on the spot market after holding the benchmark interest rate at 6.5 percent in its decision-making meeting on Wednesday, according to Sidnei Nehme, executive director at NGO brokerage.
Swap sales in the last two weeks have had the desired effect in reducing volatility, but the central bank is still concerned over market reactions to the elections, the official said. The monetary authority sees an 11-day trucker strike as having exacerbated financial market volatility.
The central bank said in a June 14 statement that there's no obstacle for outstanding currency swaps to "considerably" exceed amounts seen in the past. Finance Minister Eduardo Guardia reiterated on Monday that Brazil has tools to act in currency and interest rate futures markets.
While the swaps don't change the supply of physical dollars in the country, they support the real by meeting demand from investors who want to hedge against the risk of the decline in the Brazilian currency. They also boost onshore dollar loan rates, encouraging commercial banks to bring greenbacks into Brazil to profit from the higher local rates.