Merkel Fate Hangs in Balance as CSU Is Said to Set Ultimatum
(Bloomberg) -- Germany's Christian Social Union party will give Chancellor Angela Merkel a two-week deadline to meet its demands for overhauling asylum policy, the Bild Zeitung reported, in what would mark an unprecedented challenge to her authority that risks plunging the nation into chaos.
The executive of the Bavarian party -- an ally in Merkel's government -- will pass a resolution Monday approving rebel Interior Minister Horst Seehofer's plan to turn away more refugees at Germany's borders, the Bild Zeitung reported, citing party aides. Merkel has two weeks to gain the support of EU partners or Seehofer will execute the order unilaterally, according to Bild.
If the report is true, Seehofer's ultimatum would be intolerable and "outrageous," said lawmaker Ingrid Arndt-Brauer from the Social Democrats -- also in Merkel's government -- on the phone on Sunday. "You cannot do that to the Chancellor - relations between Merkel and Seehofer would seem beyond repair." The SPD backs Merkel's stance on reforming asylum rules.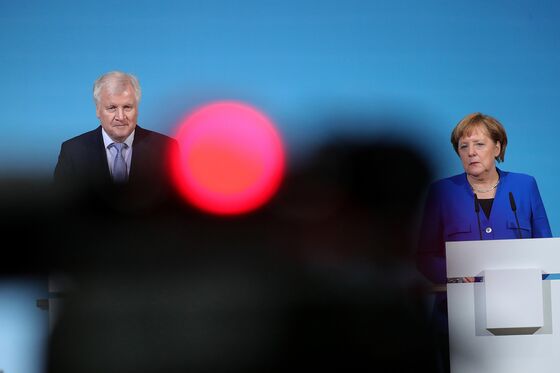 The rebellion of the CSU that's being played out in the cabinet and the parliament raged on over the weekend. Relations between Merkel and cabinet rebels have soured to breaking point. Seehofer last week reportedly told CSU leaders behind closed doors that he "can no longer work" with the Chancellor.
Merkel is seeking the help of France to forge common proposals to tighten asylum rules before taking the plans to a summit of EU leaders on June 28-29. The reported deadline set by the CSU would mark an ultimatum that Merkel may not be able to fulfill as she negotiates aligning new asylum rules with her partners.
A key Merkel ally outlined a possible compromise to defuse the situation. The two coalition partners "are of the same mind that those who have claimed asylum elsewhere shouldn't enter" Germany, said CDU Secretary-General Annegret Kramp-Karrenbauer.
Merkel is urging EU partners to give states more power to turn away refugees, averting a go-it-alone approach demanded by the CSU, she said in a Bild am Sonntag newspaper interview published Sunday. This is a "functional" solution, according to Kramp-Karrenbauer, that would avert a possible breakup in the governing coalition.
Led by Seehofer, the CSU claims Germany is empowered by national and EU laws to turn away asylum seekers who've registered in other EU states. Current arrangements allow claimants to stay in Germany awaiting judicial procedures that can last years.
The risk of a go-it-alone action ordered by the CSU-led Interior Ministry is real, said Andreas Scheuer, the Transport and Digital Infrastructure Minister and a member of the Bavarian party, in a newspaper interview.
That's a move the CDU aims to thwart, according to Kramp-Karrenbauer. It "can weaken our negotiating position and potentially impact other areas such as the euro," she said.
The CSU is defending its rule in Bavaria in an election in October and is fretting over the risk of hemorrhaging support to the anti-immigration Alternative for Germany party.
The populist group gained a point to garner 15 percent support in a poll of national voting intentions by Emnid, published in the Bild am Sonntag. The combined CDU-CSU also gained a point, scoring 33 percent.
The government Berlin on Sunday denied a Bild Zeitung report saying that Merkel seeks a special summit with states like Italy, Greece and Austria to align policy that would empower border police to turn away refugees registered elsewhere.
Merkel is nevertheless in close contact with those states, a government spokesperson wrote in an email to Bloomberg. Merkel said she seeks the help of France to forge a realignment of asylum policy, taking proposals to a June 28-29 summit of EU leaders.
Europe's migration crisis is not just being played out it Germany. Italy, run by a populist coalition, has started to turn away ships carrying refugees.
Closing ports is a political strategy meant to shake consciences, Italy's Foreign Affairs Minister Enzo Moavero Milanesi said in an interview in Corriere della Sera published Sunday. His country will present proposals to revamp the EU's asylum laws at the bloc's summit on June 28, he said.
"The issue of migrants is epic and Europe has remained detached for years about it," said Milanesi.