Colombia Elects Pro-Market Lawyer Duque in Presidential Runoff
(Bloomberg) -- In the first presidential election since signing a historic peace accord with Marxist rebels, Colombia on Sunday elected Ivan Duque, a market-friendly U.S.-educated lawyer, by a large margin over Gustavo Petro, a former leftist guerrilla and mayor.
Duque took 54 percent of the vote with 97 percent of polling centers counted against 42 percent for Petro, largely validating opinion polls conducted before the vote. Duque, a disciple of former President Alvaro Uribe, will be sworn in on Aug. 7 and hold office until 2022.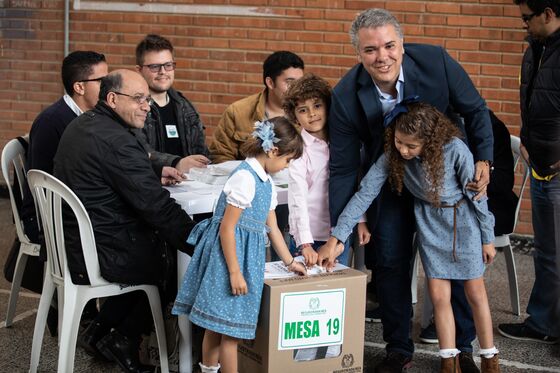 The former senator inherits a sluggish economy, a migration crisis from neighboring Venezuela and a surge in cocaine production which has brought chaos to parts of the countryside. Despite this, the nation is the most peaceful it has been in decades, with the homicide rate at its lowest level since the 1970s and an election free of the terror and sabotage that marred past votes.
At the peak of drug cartel violence in the 1980s and early 1990s, four presidential candidates were assassinated, and the guerrillas made voting impossible in some areas.
Without the question of security dominating the elections, the electorate was split between candidates with sharply different plans for the $300 billion economy and the 2016 peace deal with demobilized members of the Revolutionary Armed Forces of Colombia, or FARC.
Duque, who was hand picked by ex-President Alvaro Uribe, backs oil and mining exploration, wants to cut corporate taxes and has criticized the peace agreement as being too lenient on ex-FARC members. Petroleum accounted for about one third of Colombia's $38 billion in exports in 2017, according to government statistics.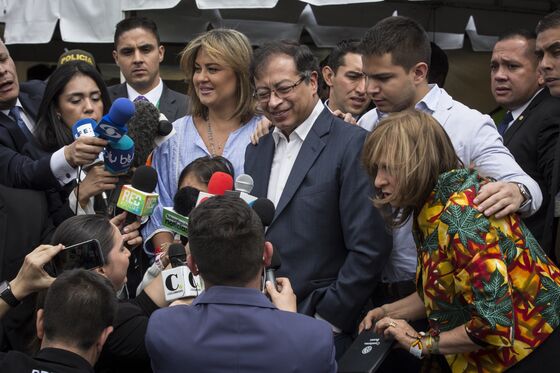 Petro, an economist and former guerrilla movement member, was in 2011 elected mayor of Bogota, where he subsidized public transport and water. His platform called for transitioning away from coal and oil to solar power and agricultural production.
The comfortable victory for Duque may support further gains for the peso, which has rallied more than 4 percent this year, the most in emerging markets. Higher oil prices have buoyed the currency and distinguished the country from the political turmoil afflicting Brazil and Mexico, and the economic chaos engulfing Argentina.