Czech Billionaire's Ruling Plan Shows Cracks Over Cabinet Lineup
(Bloomberg) -- Czech Prime Minister Andrej Babis's plan to govern in a coalition with the Social Democrats suffered a setback as the potential partners clashed over who should be the foreign minister in the joint cabinet.
Eight months after winning elections, billionaire Babis is seeking to end a political stalemate in the central European country of 10.6 million that ensued when other mainstream parties refused to team up with him because of a fraud probe. Part of his plan to secure sufficient backing in parliament is to rely on tacit support from the Communists, which would give the anti-NATO party its biggest influence in national politics since the fall of the Iron Curtain in 1989.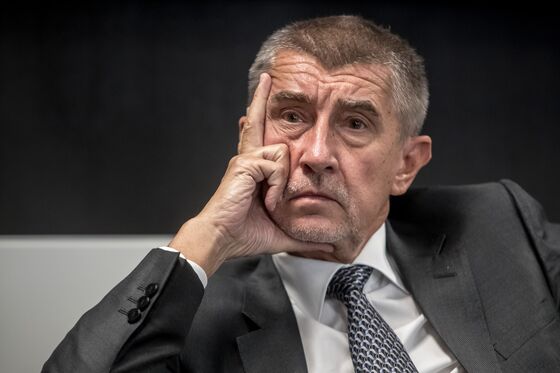 Social Democrat leader Jan Hamacek said on Sunday he couldn't exclude pulling out of the deal to create a minority government with Babis after the premier refused to give the top diplomatic job to their nominee, Miroslav Poche. President Milos Zeman, who names cabinet members, opposes Poche's nomination because he supported the European Union's refugee policy and is critical of Israel's stance toward Palestinians. The Communists also said they wouldn't back a cabinet that includes Poche.
"The Social Democrats have no more room for concessions," Hamacek said in a televised debate. When asked whether the personnel dispute may lead to his party's withdrawal from the agreement with Babis' ANO, he said "that is of course one of the potential outcomes."
The row erupted only two days after the Social Democrats announced that their members voted to approve joining Babis in a coalition. The result of the internal ballot overturned earlier objections to ruling with the chemical and media tycoon while he faces accusations that one of his companies illegally obtained EU subsidies. He denies wrongdoing and says the allegations were fabricated by his rivals to force him out of politics.
Babis discussed the cabinet lineup with the president on Sunday. Zeman's office said the head of state will ask Poche, who is now a member of the European Parliament, to reconsider his candidacy to facilitate creation of a government.
Hamacek refused to propose another nominee because the Social Democrats' picks for all five cabinet posts were announced before the party's referendum. Babis said he will hold more talks with the Social Democrat leader this week.