Polish Leader Health in Focus as Minister Talks of Life Risk
(Bloomberg) -- Poland's leading politician, ruling-party boss Jaroslaw Kaczynski, showed up at work this week after spending 37 days in a hospital. Yet confusion about his health is growing.
Health Minister Lukasz Szumowski said on Friday that Kaczynski was so frail last month "that not admitting him to a hospital would have threatened his life." Previous statements from ruling-party officials said the 68-year-old needed in-patient medical care for a knee problem. The army hospital treating the politician said it carried out "diagnostics and a medical intervention" for his osteoarthritis and helped to "stabilize" his health.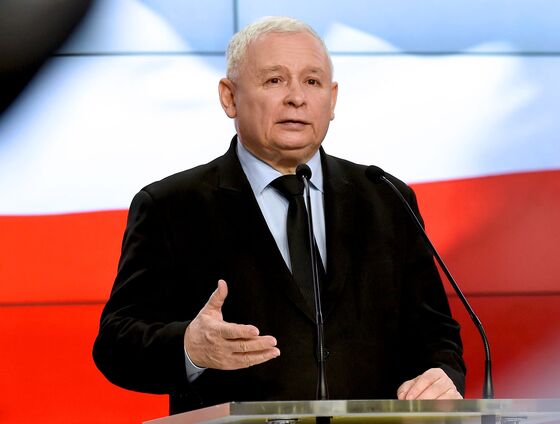 Despite holding no elected post other than serving as a lawmaker, Kaczynski wields the power behind the administration of Mateusz Morawiecki, a former banker he hand picked to be prime minister last year. Under his stewardship, the country of 38 million has transformed from a model of east Europe's successful transition to democracy to one of the European Union's biggest headaches.
"We're very happy that Chairman Kaczynski is in good shape, that he left the hospital in good form, that he showed up at the party's headquarters," Law & Justice spokeswoman Beata Mazurek told reporters on Friday. She tried to quell media speculation about her boss's health, saying "those that aren't in touch with him shouldn't be spreading rumors."
In this new Poland, Law & Justice has grabbed more sway over the $470 billion economy, public media and the justice system, while stoking nationalist fervor. The EU has accused the government of undermining the rule of law, an offense which may directly lead to political sanctions and potentially to a reduction in the aid Poland receives from other EU members.
European Commission Vice President Frans Timmermans will visit Warsaw on Monday to pile pressure on Morawiecki to change controversial elements of recent court overhauls, such as an amendment that's set to push about 40 percent of the country's Supreme Court justices into forced retirement next month.
"We have shown that we can fight for our rights and that we won't leave the path of very important reforms of our tax and judicial systems," Morawiecki said late yesterday. "I don't expect any miracles, but we are trying to find at least some thin thread of agreement" with the EU.
While Law & Justice's popularity hasn't dropped significantly during Kaczynski's retreat from the public, the party has at times struggled to remain on-message, according to Anna Materska-Sosnowska, a political scientist at Warsaw University. Unless the boss reaffirms his authority, would-be candidates to replace him will continue jockeying for position and infighting within the party and the government will increase, she said.
"There's a problem with leadership and vision in the party, beyond the single person who runs it, and this problem will persist," Materska-Sosnowska said by phone. Such "chaos" increases the risk of Poland becoming isolated in Europe, she said. "This is dramatic."