Trump's Allies Seek Mileage From Comey Report
Donald Trump's campaign to convince the public that Special Counsel Robert Mueller and the FBI are biased against him just got a fresh injection of fuel.
Although a Justice Department report released yesterday focused on decisions taken in the run up to the 2016 election by former FBI Director James Comey (and didn't directly address Mueller's probe into Russian meddling), Republicans seized on secondary findings that five FBI officials expressed hostility toward Trump before his victory.
In one case, FBI officials Peter Strzok and Lisa Page exchanged text messages questioning whether Trump would become president. Strzok replied: "No. No he's not. We'll stop it."
Trump's lawyer Rudy Giuliani called for Mueller's suspension and for the FBI officials to be investigated. Both Strzok and Page were removed from the Russia probe last year, and Page has since left the FBI.
Democrats defended Mueller and noted the missteps the report said Comey made in his handling of the FBI's inquiry into Hillary Clinton's use of a private email server almost certainly worked to Trump's benefit.
That aside, expect no end to claims by Trump or his supporters that the president is the victim of political bias. There's too much at stake.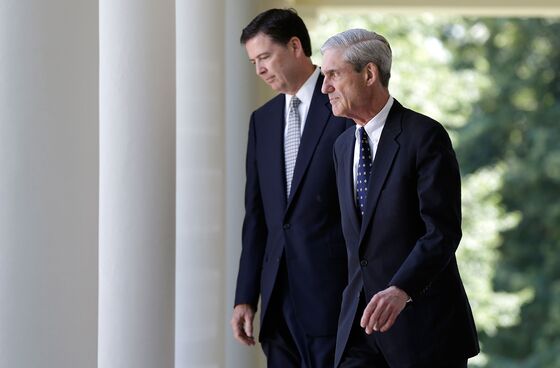 More to come | China watchers are predicting U.S. proposals to slap tariffs on $50 billion of Chinese imports might be the start. The Trump administration's refined list of products to be hit with tariffs — set for release today — will focus on technologies where Beijing wants to establish itself as a leader, Justin Sink reports.
Brexit postponed? | Senior European Union officials have informally discussed whether the U.K. might need to stay in the bloc past March 2019 if negotiations don't accelerate over the summer, Ian Wishart and Dara Doyle exclusively report. Concern is growing that there still won't be an accord by the time EU leaders meet in mid October, with diplomats now viewing December as the real deadline for agreeing a deal. Click here for an analysis of the obstacles in Prime Minister Theresa May's path.
Brussels to the fore | As the U.S. rolls back regulations enacted after the 2008 crisis, the EU is emerging as the new sheriff for international markets. Silla Brush and Viren Vaghela report that Europe is introducing standards for everything from investment research to trading to oversight of client data—rules with repercussions from New York to Hong Kong.
Real change? | Cinemas are open, genders mix more freely and women will be allowed to drive in Saudi Arabia starting this month, but there's an increasingly authoritarian side to Crown Prince Mohammed bin Salman's leadership. Vivian Nereim, Matthew Martin and Glen Carey talk to businessmen, government officials, activists and diplomats about a climate of fear permeating the kingdom.
Forgotten at the fringe | Scores of small South African towns are nearing collapse after years of mismanagement, graft and declining revenues. Government studies found more than 60 percent of 257 municipalities were at the brink. The meltdown is putting the nation's finances at risk, with the National Treasury facing increasing demands for help. "I have lost hope," a resident of Edenville, in the country's center, tells Amogelang Mbatha. "It is too far gone."
Former Trump campaign chairman Paul Manafort could be locked up as soon as today if a judge agrees with Mueller's argument that he tried to tamper with witnesses while under house arrest.
And finally ... U.S. Attorney General Jeff Sessions's use of scripture to justify the Trump administration's policy of separating undocumented immigrant children from their families prompted a tense exchange during yesterday's White House Press briefing. Asked about Sessions's use of Romans 13 as evidence the policies "are not unusual or unjustified," White House Press Secretary Sarah Huckabee Sanders replied that "it is very biblical to enforce the law" and when pressed said, that concept is "repeated a number of times throughout the Bible."