Trump Claims Vindication in Report on FBI That Wasn't About Him
(Bloomberg) -- A report by the Justice Department's watchdog on accusations of misconduct at the FBI didn't touch directly on Special Counsel Robert Mueller's Russia probe, but President Donald Trump and his allies seized on it to undercut the investigation that has cast a shadow over the White House.
"If you read the IG report, I've been totally exonerated," Trump said Friday of the 500-page report issued a day earlier by Inspector General Michael Horowitz. In an impromptu press conference on the White House lawn, the president told reporters "the Mueller investigation has been totally discredited."
The report actually focused on decisions by former FBI Director James Comey in the 2016 investigation into Hillary Clinton's email server, well before Trump fired Comey and Mueller was named to take over the separate inquiry into Russian meddling in the 2016 presidential campaign, possible collusion with those around Trump and whether he sought to obstruct justice.
But Trump and Republicans zeroed in on secondary findings, including that five FBI officials expressed hostility toward Trump before his election as president. Horowitz said their actions have been referred to the bureau for possible discipline.
"Comey was the leader of this whole den of thieves" at the FBI, the president said on Fox News.
"The top people were horrible," he added in the interview. "They were plotting against my election, probably has never happened like that in terms of intelligence, in terms of anything else."
Trump and his allies cited a freshly disclosed exchange of text messages from August 2016 in which FBI officials Peter Strzok and Lisa Page questioned whether Trump would become president. Strzok replied: "No. No he's not. We'll stop it."
Strzok was the lead FBI agent in the Clinton investigation and was involved in any early phase of the FBI's Russia investigation. Page at the time was an FBI lawyer but has since left the agency.
Trump slammed Strzok in a Twitter posting early Friday morning, saying, "Doesn't get any lower than that." He later said he couldn't believe Strzok hasn't already been fired.
Rudy Giuliani, Trump's lawyer and the former New York mayor, said on Fox News Thursday night that "Mueller should be suspended and honest people should be brought in, impartial people to investigate these people like Strzok." Trump said "no" when asked if he would move to suspend Mueller.
Democrats said the inspector general's report provided no grounds to undermine Mueller's continuing investigation.
"Nothing in this report lays a glove on Mueller," Senate Democratic Leader Chuck Schumer said. And while Comey mishandled the investigation into whether Clinton misused the email server as secretary of state, Schumer said, "it was Trump who benefited from all these mistakes."
The watchdog report found that Comey showed bad judgment and "insubordination" in his handling of the FBI's inquiry into Clinton's use of a private email server when she was secretary of state, but "we did not find that those decisions were the result of political bias on Comey's part."
Republican Representative Mark Meadows of North Carolina, a top Trump ally, said the findings show "individuals within the DOJ and FBI were intent on taking down President Trump" and that has implications for Mueller's investigation into Russian interference in the 2016 presidential election and whether anyone close to Trump colluded in it.
"It appears that at least five individuals that were involved in the Hillary Clinton investigation went on to investigate aspects of Russia," Meadows said.
Mark Warner, the top Democrat on the Senate Intelligence Committee, said in a statement that "President Trump will surely attempt to use this report to discredit the ongoing criminal investigation into his campaign, so let's be clear: This report has absolutely nothing to do with the Mueller investigation, which must be allowed to conclude without interference from the president."
"Though FBI leadership made errors in judgment in the run-up to the election, those actions were not influenced by any political bias and, if anything, helped Donald Trump's candidacy," Warner said.
Mueller's team was back in court Friday asking a judge to revoke bail for Trump's former campaign chairman Paul Manafort, who has been charged with money laundering and lobbying violations. Then next week, two congressional panels plan to hold hearings on the inspector general's report.
Horowitz again and again questioned decisions by senior leaders at the FBI, like the one to assign many of the same people, including Strzok, who had been involved in the Clinton case, to the Russia investigation.
Horowitz reviewed Comey's announcement in July 2016 that no prosecutor would find grounds to pursue criminal charges against Clinton for improperly handling classified information on her private email server. He also looked at Comey's decision to inform Congress only days before the election that the Clinton investigation was being re-opened. Comey's public announcement of findings angered Republicans, while his reopening of the inquiry outraged Democrats.
Trump initially cited Comey's actions in the Clinton probe as the reason he fired the FBI director, although he later told Lester Holt of NBC News that he was thinking about the Russia inquiry when he made his decision.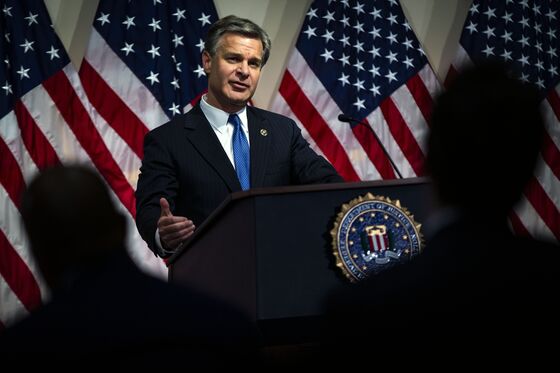 Attorney General Jeff Sessions said in a statement that John Huber, a U.S. attorney based in Utah who's reviewing allegations of FBI bias and wrongdoing, "will provide recommendations as to whether any matter not currently under investigation should be opened, whether any matters currently under investigation require further resources, or whether any matters merit the appointment of Special Counsel."
FBI Director Christopher Wray told reporters on Thursday that the FBI plans training for its personnel worldwide to ensure that they do their jobs without political bias and understand the lessons from the inspector general's report.
Comey said the report "found no evidence that bias or improper motivation affected the investigation, which I know was done competently, honestly and independently." In an op-ed article for the New York Times, he said the report "also resoundingly demonstrates that there was no prosecutable case against Mrs. Clinton, as we had concluded."