Pressure Grows on Brazil's Underperforming Centrist to Give Way
(Bloomberg) -- With Brazilian voters showing little sign of enthusiasm for the presidential bid of former Sao Paulo Governor Geraldo Alckmin, the leading establishment candidate is coming under increasing pressure to quit the race.
So far, much of the apprehension comes from would-be allies of Alckmin's Brazilian Social Democratic Party, or PSDB, who are reluctant to throw their weight behind a candidate who garners around 7 percent of vote intentions in polls and trails in fifth place. Publicly, the PSDB has played down any concerns about Alckmin and says that his candidacy is about to take off.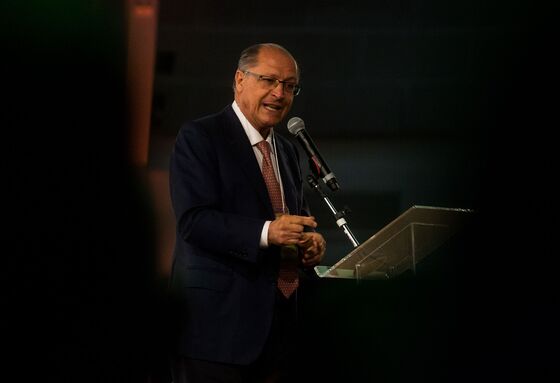 While smaller centrist and center-right parties typically coalesce around the PSDB's pick, the choice of Alckmin is proving problematic, according to four people familiar with the matter. Alckmin's stagnation in polls has complicated the PSDB's relationship with one of its most traditional allies, Democratas, or DEM. Their reluctance to embrace Alckmin is reportedly causing unease within the PSDB itself, with newspaper Folha de S. Paulo reporting that the normally even-tempered candidate hurled down his napkin at a recent dinner party and dared members to pick someone else if they were dissatisfied with his performance.
Alckmin's press office did not comment on whether other parties were pressuring him to stand down, but said that rumors that he might be replaced were "fake news" -- as was the report of the candidate losing his temper.
In an attempt to build bridges with allies, the former governor dined with Rodrigo Maia, lower house speaker and DEM member, on Wednesday evening as part of on-going discussions to seek a single centrist candidate.
"As a candidate, I talk to people," Alckmin told reporters when asked about his candidacy in Brasilia on Thursday. "It's important to have partners to help."
While Maia appears willing to give up his own presidential ambitions, the DEM and other parties are sounding out the possibility of substituting Alckmin before formalizing their support.
Among the possible replacements are the former mayor of Sao Paulo, Joao Doria; Senator Antonio Anastasia and the former governor of Goias state, Marconi Perillo. But few believe Alckmin is likely to surrender his position willingly. Those pushing for his replacement also admit they have no polling data to show whether others would do better.
"Geraldo's candidacy is solid and, with time, it will grow and gather support," said Luiz Carlos Hauly, a PSDB congressman. "We have TV time, party structure and we're organized. The PSDB is a safe bet."