Merkel's Time Is Probably Not Up Yet: Four Reasons and a Caveat
(Bloomberg) -- German Chancellor Angela Merkel's back is against the wall again over her liberal migration policy, and once more it's her own side causing the confrontation.
Bavaria's ruling party -- one of three parties in Merkel's coalition -- demands that Germany start turning away refugees and migrants already registered in another European Union country. Merkel rejects such a move, saying her country shouldn't act unilaterally to protect its borders and that a Europe-wide solution is needed.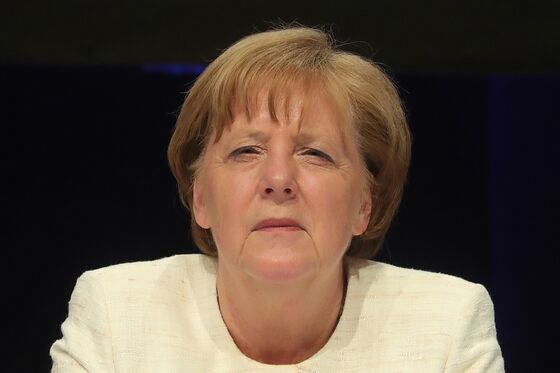 The stand-off pits Merkel against her interior minister, Horst Seehofer, who also leads the Bavarian Christian Social Union. Seehofer is threatening to start turning away migrants on Monday, meaning that without a compromise the chancellor will be forced to either give in to his plans or sack him -- a move that would almost certainly lead to the coalition's collapse.
"Ultimatum for Merkel," read tabloid Bild's front page headline on Friday. "Government crisis," is how the conservative Frankfurter Allgemeine Zeitung put it.
While it looks dire for Merkel, here are four reasons to believe the chancellor will survive this latest test, along with one caveat.
Seehofer enjoys the full backing of the CSU, the sister party of Merkel's Christian Democratic Union. But he looks to have miscalculated in assuming the CDU would rally behind his so-called immigration masterplan. Earlier this week it did look as though Merkel's own party might line up against her on this issue, but beyond the usual suspects who opposed her every move during the euro-area crisis, they are now on board.
Annegret Kramp-Karrenbauer, CDU general secretary, sent a memo to all party members underlining the "serious situation" developing around the "increasingly vehement" debate over migration. Crucially, Wolfgang Schaeuble, the former finance minister who now presides over the Bundestag, has thrown his weight behind Merkel -- as he did during the height of the 2015-2016 refugee crisis. According to German media reports, he will act as a mediator in talks between the two blocs over the weekend to try and prevent a showdown on Monday.
Germany is far from alone in struggling with migration. While the number of people making the dangerous journey to Europe across the Mediterranean is way down from the peak three summers back, the issue has suddenly resurfaced across Europe, most notably as a result of the actions of Italy's new government. The populist tactics have been criticized, but Italy has a point in complaining it has been all-but left alone on the frontline to deal with the influx. That shows pressure is building for some kind of action to address migration challenges at an EU summit in Brussels on June 28-29 -- if even a patch rather than a comprehensive system.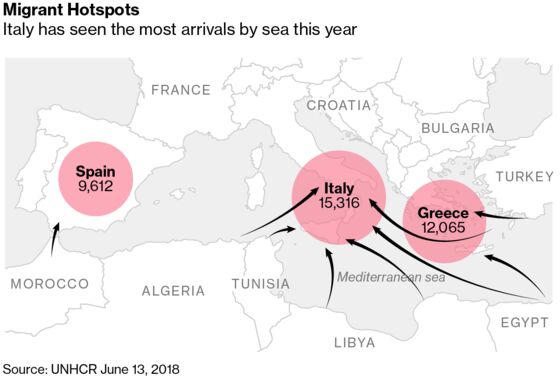 Merkel said that she'll try to seek bilateral agreements with individual EU states in the next two weeks. While Seehofer and his CSU say they won't wait for Europe, the argument for a bloc-wide solution is a powerful one: sending registered refugees back across the border would creating a "domino effect" that could eventually call into question the stability of the EU, according to Kramp-Karrenbauer.
Bavaria faces regional elections in October and the CSU is vying to hold on to its majority in the face of a challenge from the anti-immigration Alternative for Germany (AfD) party. Rattling Berlin's cage over refugees plays well in the state, which after all is the main border to all points south. Yet the CSU has a history of forcing conflicts in Berlin to serve its interests in Munich. Seehofer needled Merkel repeatedly during the refugee crisis, only to back down or agree to compromise, most recently over a cap on the number of arrivals. He doesn't necessarily need to implement every single point of his plan to show voters back home that he's fighting hard on their behalf.
"The task of ruling our nation is not an episode from Game of Thrones but a serious matter," Finance Minister Olaf Scholz, a member of the Social Democrats, the third coalition party, wrote on Twitter. "All those involved should never forget that."
Perhaps the single biggest reason to believe that this inter-party conflict will be defused is that it is in neither side's interest to blow up a coalition that took months to piece together. The only obvious winner at the national level would be the AfD, which has gained in polls since last year's election and has a more hardline stance than the CSU on immigration and asylum. And it's hard to imagine Bavarian state voters would reward the CSU in the coming regional elections for introducing instability.
"Both sides have too much to lose," said Holger Schmieding, chief economist at Berenberg in London. "Seehofer has shown in the past that he can be flexible if need be," and both his party and Merkel's party "have an interest in reaching a compromise."
After more than a million arrivals, the friendly welcome, or "Wilkommenskultur," of three years ago has faded and public support is hardening against migrants. The top-selling Bild tabloid has turned from staunch supporter of Merkel's open-doors policy to arch critic of the chancellor and a cheerleader for cracking down on refugees.
Polls released this week suggested voters back Seehofer's stance, with a majority in favor of more forceful repatriation, for benefits to be paid in kind rather than in cash and for denying entry for anyone without documents.
Almost thirteen years after she first came to power, Merkel is still an international force -- the image of last week's Group of Seven summit in Canada was of her in front of her fellow leaders confronting a sitting Donald Trump. But domestically her authority is weakened, perhaps fatally. When she does eventually go, the trigger will almost certainly be her migration policy.