Manafort Could Go to Jail Today After Judge Weighs Tampering
(Bloomberg) -- Paul Manafort could be locked up as soon as Friday if a judge agrees with Special Counsel Robert Mueller's argument that he tried to tamper with witnesses while under house arrest.
Manafort, a former campaign chairman for President Donald Trump, arrived at the federal courthouse in Washington just before 9:30 a.m. He is accused of money laundering and acting as an unregistered foreign agent of Ukraine. But what could land him in jail as he awaits trial are new charges relating to witness tampering.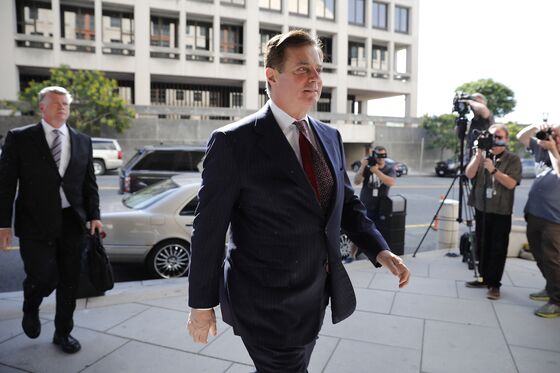 U.S. District Judge Amy Berman Jackson will have the final say after considering arguments from Mueller's team and Manafort's lawyers. She could also impose more stringent bail terms than Manafort's $10 million bond with electronic monitoring.
"She absolutely could lock him up," said former federal prosecutor Courtney Oliva. "I think he's got an uphill battle, and it's likely he'll get sent to jail. If he's not, it's because he's not your run-of-the-mill defendant, and she's just being very careful."
Manafort, 69, pleaded not guilty to the witness-tampering charges. He faces a Sept. 17 trial in Washington after a July 25 trial in Alexandria, Virginia, on bank- and tax-fraud charges.
Jason Maloni, a spokesman for Manafort, declined to comment.
Jailing him before trial would add to the pressure Manafort faces to cooperate with prosecutors and spill any secrets he knows about Trump and the campaign. Trump's former lawyer Michael Cohen has a similar choice in face of possible charges in New York. And Trump's legal troubles deepened Thursday when New York's attorney general sued the president and members of his family, referring possible tax crimes at Trump's charitable foundation to the Internal Revenue Service. Trump countered with increasingly forceful rhetoric in his attempt to discredit Mueller's probe and the FBI.
Prosecutors made the Manafort detention request on June 4, when they argued in court papers that he tried to tamper with two witnesses after he was indicted in Washington for a second time on Feb. 23. Four days later, a grand jury indicted Manafort anew, accusing him and an associate of witness tampering.
A judge may revoke bail after finding probable cause that a defendant committed a federal, state or local crime while on pretrial release. The judge must also find "there is no condition or combination of conditions of release that the person will not flee or pose a danger" to the community.
Manafort's new indictment meant that a grand jury, which meets in secret and hears evidence presented by prosecutors, found probable cause that he broke the law. The legal burden now shifts to Manafort to show he shouldn't go to jail.
"Manafort's obstructive conduct -- carried out at a time when he was seeking relief from his current conditions of release -- instills little confidence that restrictions short of detention will assure Manafort's compliance with the court's orders," prosecutors wrote in the June 4 filing.
In a June 12 court filing, Manafort's attorneys responded that Mueller contrived "dubious" allegations of tampering based on thin evidence that doesn't show he intended to corruptly influence trial witnesses.
The majority of the evidence, they said, involves text messages that are "irrelevant, innocuous and unsupportive" of Mueller's claims. While Mueller says the texts were encrypted through WhatsApp or Telegram Messenger, Manafort's lawyers said those applications are free and widely used.
Prosecutors claim Manafort and an associate, Konstantin Kilimnik, tried to contact two people who worked with former European leaders, known as the Hapsburg Group, to persuade them to have all their stories match. The group promoted pro-Russian Ukrainian President Viktor Yanukovych with lobbying in the U.S. without registering, prosecutors said. Manafort insists the lobbying occurred only in Europe.
"The special counsel's disagreement with Mr. Manafort's view of this case regarding the Hapsburg Group does not make it a crime for Mr. Manafort to communicate his views to others, especially when he is not aware of who the special counsel may call as witnesses," Manafort's attorneys wrote.
The Manafort cases are U.S. v. Manafort, 17-cr-201, U.S. District Court, District of Columbia (Washington), and 18-cr-83, U.S. District Court, Eastern District of Virginia (Alexandria).