Czech Billionaire Moves Closer to Forming Ruling Coalition
(Bloomberg) -- Czech billionaire Andrej Babis got the green light to create a ruling coalition with the Social Democrats, inching a step closer to breaking a deadlock following inconclusive elections eight months ago.
Babis is seeking to formalize his rule over the central European country of 10.6 million after other mainstream parties refused to team up with him because of a fraud probe. To muster a majority in parliament, the chemical and media tycoon has turned to the Communists for tacit support, giving the anti-NATO party its biggest influence over national politics since the fall of the Iron Curtain in 1989.
Social Democrat leader Jan Hamacek said on Friday an internal party-wide referendum approved teaming up with the prime minister's ANO movement. The turnout among the almost 18,000 Social Democrats was 65 percent, with 59 percent of those taking part supporting the partnership.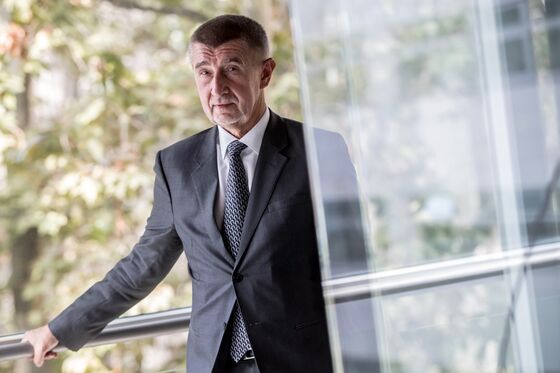 Babis, whose single-party cabinet lost a confidence vote in January, had led a caretaker administration before reaching a deal with the Social Democrats. The two groups will together have 93 lawmakers in the 200-member lower house. The Communists, who have 15 mandates, have set a range of conditions the nascent government has to meet to secure their backing.
"In the new government, the Social Democrats will play the role they've had for 140 years now: that of a strong left-wing party," Hamacek told reporters in Prague.
Babis, who built his popularity with attacks on the political establishment and anti-migrant rhetoric, has already adopted parts of Social Democrats program by pledging to boost pensions and teachers' salaries. He also wants to accelerate road construction while still maintaining one of the lowest debt levels in the European Union.
The Social Democrats will join Babis's cabinet despite their earlier objections to ruling with him while he faces accusations that one of his companies illegally obtained EU subsidies. He denies wrongdoing and says the allegations were fabricated by his rivals to force him out of politics. Babis is also suing neighboring Slovakia, his native country, at the European Court of Human Rights over his inclusion in a list of agents of the former communist secret police.
The premier is scheduled to present the cabinet line-up to President Milos Zeman on Sunday. Babis has said he expects the cabinet to face a mandatory confidence vote on July 11.