Two World Pillars Skirt Trump's Fury — For Now
Two pillars of the international economic order have quietly managed to escape Donald Trump's wrath. At least, so far.
Andrew Mayeda takes a closer look at a $50 billion International Monetary Fund loan the administration endorsed last week to help Argentina transform its struggling economy. The loan — the largest in IMF history — follows a U.S.-backed $13 billion capital increase for the World Bank in April.
The president's tacit support for the IMF and World Bank stand in sharp contrast to his deep scorn for globalism and multi-national accords ranging from trade pacts to the Paris climate and Iran nuclear deals. Last week in Quebec, Trump upended ties with some of America's closest allies, in part because of his aggressive new tariff scheme.
Although there are reasons to doubt that the IMF and World Bank's good fortunes will last, IMF Managing Director Christine Lagarde isn't looking to rock the boat.
Asked this week about America's protectionist turn under Trump, Lagarde replied by citing advice on the secret to a long marriage: "It helps being a little bit deaf on occasions."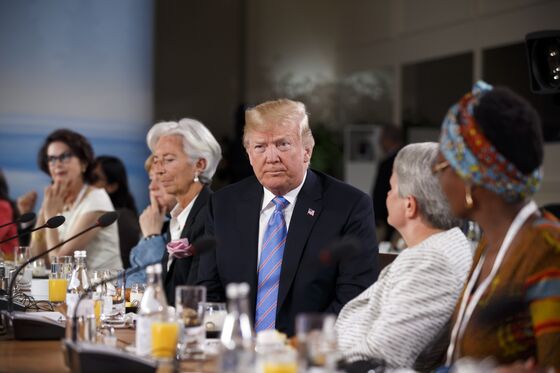 Just in … Trump landed in Washington this morning and declared "there is no longer a nuclear threat from North Korea." 
The fine print | North Korean state media says Trump agreed to lift sanctions against his regime when he met Kim Jong Un in Singapore, a claim that contrasts with the U.S. president's rhetoric that the economic strictures would remain. The status of the penalties is just one subject unaddressed by a nuclear agreement that was distinct mainly for being vague, as Marc Champion writes.
Mueller interview | With the summit in Singapore in Trump's rear view mirror, the question of whether the president will sit voluntarily for an interview in Special Counsel Robert Mueller's probe of Russian meddling in the U.S. election is again front and center. If Mueller and Trump's lawyers can't find common ground, it could spark an unprecedented legal fight that's likely to go all the way to the Supreme Court.
Trump appeal | Republican voters in South Carolina ousted Representative Mark Sanford in a primary contest that turned into a test of loyalty to Trump. The president launched a pointedly personal attack on Sanford — a Trump critic — while the challenger vowed to be more supportive of the White House's agenda. It's a sign that the president's popularity endures in Republican-leaning states as the party tries to retain its congressional majorities in the November midterms.
Merkel's rebuff | The German chancellor has opened a new front in the dispute with the Trump administration over trade and exports. Taking services into account, the U.S. runs a surplus with Europe, Angela Merkel said in Berlin. Using goods only is "a pretty old-fashioned way" of calculating trade surpluses, she said.
Down to the wire? | Turkey's Recep Tayyip Erdogan could win the presidential vote in the first round on June 24 with 50.8 percent support and get the backing of a majority in parliament, according to a poll commissioned by Bloomberg. But victory for the opposition is also within the margin of error. The key takeaway is that any array of options is possible and the only certainty is that it will be very close. The survey by Foresight Danismanlik is its first for Bloomberg, and the first of its kind in Turkey.
Yemeni forces and their Saudi-led allies launched an assault to retake the Red Sea port city of Hodeidah — the country's aid lifeline. It's a siege that could dramatically exacerbate the humanitarian crisis without tipping the balance of the war.
And finally … Another week, another Brexit-related crisis for Prime Minister Theresa May to douse. The House of Commons had the air of farce yesterday when May escaped a defeat with some last-minute horse-trading. Pro-EU rebels believe they won concessions to give Parliament a greater say in softening Brexit, but Euroskeptics won't stand for it. In a few days we could be replaying the same movie — but with a different ending.