Trump Under Pressure to Do Mueller Interview After Kim Summit
(Bloomberg) -- Fresh off his summit with North Korean leader Kim Jong Un, Donald Trump returns to Washington on Wednesday to face what may be the biggest threat to his presidency -- Special Counsel Robert Mueller.
Now, Mueller is intent on quickly resolving a central issue with Trump's legal team: whether the president will sit voluntarily for an interview in the probe of Russian election meddling, according to current and former U.S. officials. After months of negotiations, the two sides must find common ground or gear up for an unprecedented legal fight likely to go all the way to the Supreme Court.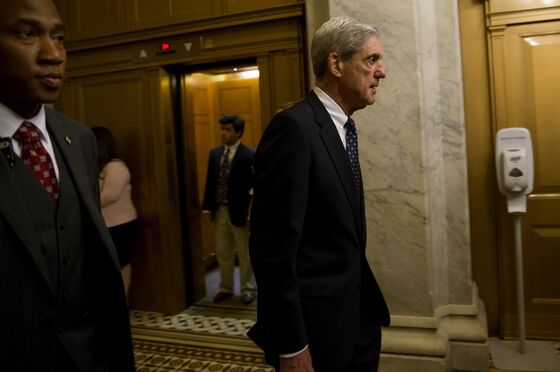 "It's a little bit of a game," said Harry Sandick, a former federal prosecutor who's now a partner with law firm Patterson Belknap Webb & Tyler. "Mueller could subpoena the president but probably doesn't want to. He faces some litigation risk. Trump could fight the subpoena, but he also faces a political risk."
The interview is key to Mueller's investigation into whether Trump or any of his associates helped Russia interfere in the 2016 U.S. election and whether Trump acted to obstruct the probe, one official said.
Trump's lawyers are concerned that an interview risks opening the president to claims of misleading prosecutors, to "trap him into perjury," as his lawyer Rudy Giuliani puts it. Yet, the sooner the interview question is resolved, the sooner Mueller could wrap up his probe -- a move Trump and his lawyers have repeatedly demanded.
Sandick, for one, said he expects a compromise, with Trump agreeing to testify under a set of conditions.
Giuliani said last week that he was still hoping for an agreement but was increasingly doubtful one would be reached. He's been compiling a growing list of demands that Mueller must meet before Trump would agree to sit down. Last week, he drafted a formal request to Mueller for information about an informant the FBI used to collect information from Trump campaign advisers in 2016.
Trump's lawyers have indicated the president isn't legally obligated to answer questions from Mueller, even if he issues a grand jury subpoena.
Mueller hasn't shown any signs of backing down from his goal of questioning the president since he first raised the issue with Trump's lawyers at the end of 2017. If he issues a subpoena and the president doesn't comply, Mueller could ask the district court in Washington to compel him to testify, opening a legal fight that could go to the Supreme Court.
"I think the Supreme Court will rule in Mueller's favor, but we don't really know," Sandick said. "If Mueller wins, he can actually put Trump in the grand jury without his lawyer for as long as he wants and ask about any subject he wants."
Timing may be a major consideration for both sides. The Supreme Court will finish its current term at the end of June and won't return until October. Although the court could act on an emergency basis in the interim -- for example, by temporarily blocking Trump's testimony -- the justices almost never hear arguments over the summer.
The most likely scenario would be for the court to defer a final decision until it comes back in October, Sandick said. That means the justices could issue a ruling just days before the midterm U.S. elections in November, or wait until after the election. Regardless, Trump would have a subpoena hanging over his head as his party defends its control of Congress.
The interview dispute was almost resolved once before: Trump's legal team and Mueller's office discussed holding an interview at the end of January at Camp David, the presidential retreat in Maryland, a person familiar with the situation said.
As the date grew closer, though, Trump's lawyers told Mueller's team they needed more time. Two days after the proposed date, the lawyers sent a 20-page memo to Mueller arguing that he wasn't entitled to question the president, citing Trump's executive authority and saying Mueller hadn't demonstrated a need to talk to Trump.