Italy Bond Sale Sees Strong Demand as Political Fears Subside
(Bloomberg) -- Italy saw strong demand for most of the bonds it sold at an auction on Wednesday in the first major test of investor appetite this month.
The nation sold a combined 5.63 billion euros ($6.6 billion) worth of notes ranging from three to 30 years, which was toward the upper end of the amount indicated before the sale. The average sale price of the 30-year notes was 37 cents above the secondary-market level just before the bidding deadline, suggesting investor enthusiasm for the longer-dated maturity.
The auction comes just two weeks after a government comprising two anti-establishment parties took office. Italian bonds were roiled last month in the run-up to the government formation on fears that the euroskeptic coalition could march the nation out of the euro and cause debt levels at one of euro-area's most indebted economies to spiral out of control.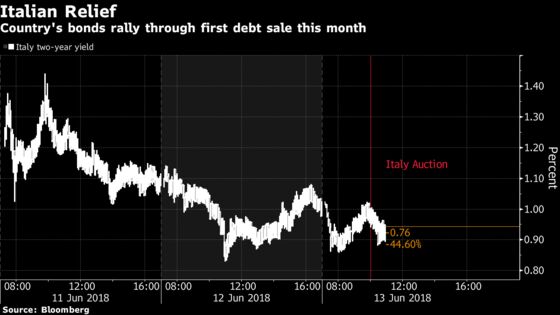 "These were very strong three-year and 30-year sales," said Peter Chatwell, head of rates strategy at Mizuho International Plc. "The three-year has been in strong demand from banks, while the 30-year is likely to have found favor with international investors along with more macro investors, such as insurers."
Italian bonds held earlier gains across the curve following the debt sale. Two-year yields dropped 13 basis points to 0.89 percent, while 10-year yields fell nine basis points to 2.77 percent as of 11:54 a.m. in London.
The amount sold compares with a range of 4.25 billion euros to 5.75 billions euros indicated before the auction

Seven-year falls short of maximum size, with weaker demand and pricing than the three-year and 30-year segments

Sells EU2.0b of 3y 0.05% 04/2021 with bid-to-cover of 1.67 and overbidding of 13c vs 1.78 and 4c overbidding at auction on May 11
Sells EU2.13b of 7y 1.45% 05/2025 with bid-to-cover of 1.34 and overbidding of 0c vs 1.34 and 1c underbidding at auction on May 11
Sells EU1.03b of 30y 3.45% 03/2048 with bid-to-cover of 1.30 and overbidding of 37c vs 1.27 and 10c underbidding at auction on April 12
Sells EU0.468b of 28y 3.25% 09/2046 with bid-to-cover of 1.95 and overbidding of 70c