Two Vulnerable Senate Incumbents at Center of Tuesday Primaries
(Bloomberg) -- Two of this year's most vulnerable Senate incumbents will find out Tuesday who they'll face in November, as residents of Nevada select the challenger to GOP Senator Dean Heller and voters in North Dakota pick the candidate to run against Democratic Senator Heidi Heitkamp.
Heller's state is Democrat-leaning and was narrowly won by Democrat Hillary Clinton in the 2016 presidential election, while Heitkamp's is dominated by Republicans and voted strongly for President Donald Trump. Both are seeking re-election after having won in 2012 by just one percentage point. Control of the Senate, now held 51-49 by Republicans, could turn on how they fare in the congressional election less than five months away.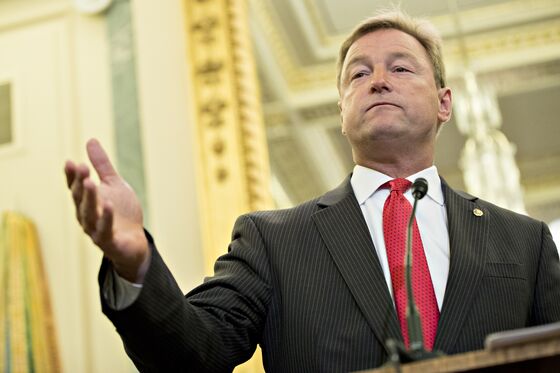 "If you were to make the list of the top races that are most likely to flip, these races are in the top five, and maybe the top two," said Kyle Kondik, managing editor of the nonpartisan Sabato's Crystal Ball at the University of Virginia's Center for Politics.
Those two contests will be among the most closely watched in Tuesday's round of primaries that also include contests in Virginia, South Carolina and Maine. In a year in which a record number of women are running for office, there are notable races featuring female candidates. In Virginia, Democrats are poised to nominate women in four competitive House races for Republican-held seats, and there are female candidates for governor in South Carolina, Nevada and Maine.
The Nevada and North Dakota Senate primaries aren't likely to yield surprises, but they will formally establish the general election field in races that are considered toss-ups.
U.S. Representative Jacky Rosen, 60, who was elected to Congress in 2016 and joined the centrist Problem Solvers Caucus, is expected to win the Democratic Senate nomination in Nevada. Heller, 58, who holds the most vulnerable of the nine GOP-held seats on the ballot in 2018, won a reprieve from a contested GOP primary when Trump successfully urged announced rival Republican Danny Tarkanian to drop out of the Senate race and run for a House seat instead.
The state's tilt toward Democrats in recent years gives the party reason for some optimism. An April 12-19 poll by the Nevada Independent and The Mellman Group showed Heller had support of 40 percent of likely voters and Rosen had 39 percent, a dead heat.
Heller narrowly won his seat in 2012 against Democrat Shelley Berkley, who was hampered by ethics questions. He has struggled this election cycle to thread the needle with voters in both parties whose support he will need to win, including reversals on the GOP-led effort to replace Obamacare. He ultimately voted for a GOP replacement measure, a decision that Rosen will try to exploit in a year when health care is one of the top issues with voters.
North Dakota Senate Battle
In North Dakota, Republican Representative Kevin Cramer is the presumptive challenger to Heitkamp, who is in the fight of her career in a state Trump carried by a whopping 36 percentage points. Cramer, 57, is the GOP's top choice, after he changed his mind this spring and said he would run for Senate rather than stay in the House.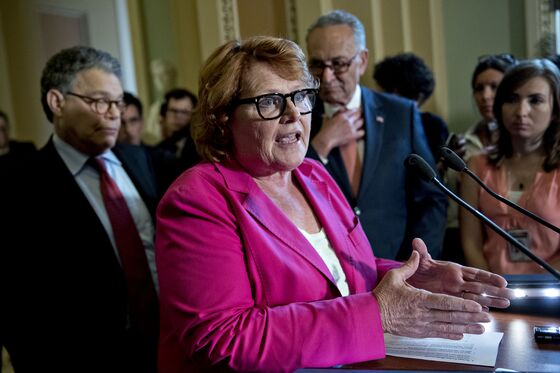 Heitkamp, a former state attorney general, is popular in North Dakota. But Cramer is in his third term in the state's at-large seat, so he has strong name recognition and a record for winning statewide. The only public poll so far in the race, a Feb. 21-24 Gravis Marketing survey, found Heitkamp barely leading, 43 percent to 40 percent, among registered voters in the state.
Heitkamp, 62, is stressing her work for her state's agriculture and energy interests, along with her votes with Republicans on legislation rolling back Dodd-Frank rules for regional and community banks and for some of Trump's nominees, including Secretary of State Mike Pompeo. Trump has appeared with Heitkamp, and she was the only Democrat invited to the White House for the signing of the banking law.
Women are running for their party's nominations in six of Virginia's 11 House districts, and Democrats may end up nominating female candidates in all four of the districts where they are targeting to take from Republicans. Democrats need a net gain of 23 seats after the midterm elections to take control of the U.S. House.
The state's tightest House race is in the 10th district, which includes part of Northern Virginia. Republican Barbara Comstock won a third term in 2016 by six points even as the district overwhelmingly voted for Democratic presidential nominee Hillary Clinton. Comstock faces a conservative GOP challenger, retired Air Force pilot Shak Hill, in her primary. On the Democratic side, six candidates -- four of whom are women -- are vying to be on the ballot in November, including state Senator Jennifer Wexton, who was endorsed by the Washington Post.
In the second district, which includes the Hampton Roads area, both Democrats running to challenge incumbent Republican Representative Scott Taylor are women. The front-runner is Elaine Luria, a Navy veteran and businesswoman who's been endorsed by the party.
Democrats have already nominated Leslie Cockburn at a party convention in the fifth district, which leans Republican but is losing incumbent GOP Representative Tom Garrett, who cited a drinking problem in his decision not to run again. In suburban Richmond's seventh district, former Central Intelligence Agency officer Abigail Spanberger, who was endorsed by the pro-choice fundraising group Emily's List, faces former Marine Corps pilot Dan Ward in the Democratic primary. The winner will challenge GOP Representative Dave Brat, who is seen as potentially vulnerable.
Another House race to watch is in South Carolina's first district, where Republican incumbent Mark Sanford, the Palmetto State's former governor, faces a tough challenge from state Representative Katie Arrington. Arrington has sought to use Sanford's frequent criticism of Trump as a wedge with GOP primary voters.
Just six of the nation's governors are women, and candidates in three states voting on Tuesday are hoping to position themselves to join their ranks.
Democrat Chris Giunchigliani, who on Sunday got the support of Clinton with a robocall asking Nevada voters to support "my friend Chris G.," has run a close race against Clark County Commissioner Steve Sisolak, who has the backing of former Senate Majority Leader Harry Reid.
In Maine, four of seven Democrats running for the open governor's seat are women. State Attorney General Janet Mills, who like Giunchigliani has the backing of Emily's List, started the race as the front-runner but has faced tough competition from the large field. Republican Mary Mayhew is the only woman running in a four-candidate Republican primary.
Republican Catherine Templeton and Democrat Marguerite Willis are vying to become South Carolina's governor, though both face long odds of emerging victorious in their primaries.