Trump, Kim Map Uncertain Path Forward for Promise of Korea Peace
(Bloomberg) -- The U.S. and North Korea agreed to seek "complete denuclearization of the Korean Peninsula" following a historic summit between President Donald Trump and Kim Jong Un, yet set no deadline and left the path to disarmament undefined.
Trump defended the two-page document he signed with Kim at the end of their meeting in Singapore earlier Tuesday, saying that he thinks his North Korean counterpart will live up to to it. "It's very comprehensive," the president said. "It's going to happen."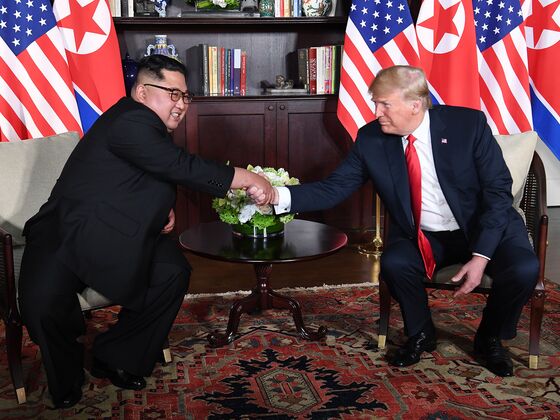 Immediately after the meeting, North Korea scored two key victories as China voiced support for revisiting economic sanctions against the regime and Trump announced a suspension of military exercises with South Korea. Still, the president said he wouldn't draw down U.S. troops from the peninsula and would continue sanctions until Kim's nuclear program was "no longer a problem."
He praised Kim for entering into negotiations with the U.S., a longtime foe, and called the meeting "a very great moment in the history of the world." The North Korean leader said the document "heralds a new start, leaving the past behind." "The world will witness a major change now," Kim said before leaving the summit site.
Trump later told reporters aboard Air Force One that he believes Kim will deliver on his commitment to denuclearize, citing his experience with the dictator in the run-up to the summit.
"From the time I've dealt with him, which is really starting like 90 days ago, it's been very strong," Trump said. "I think he wants to get it done."
Kim has "got a total plan" Trump added, without elaborating. Still, "we're going to have to check it, and we will check."
The four-hour summit, in which the two leaders strolled and lunched together at a tropical resort, was aimed at easing decades of tensions between adversaries that only last year seemed on the brink of nuclear war. Less than a year ago, Trump was mocking the young dictator as "Little Rocket Man" and Kim was deriding the president as a "mentally deranged U.S. dotard."
The Singapore summit was a major gamble for both men, and their joint statement was swiftly dissected for what it meant for eliminating one of the world's greatest security threats: Kim's nuclear stockpile. A loose agreement risked giving North Korea room to continue work on its weapons program while getting relief from sanctions pressure.
"It greatly reduces the likelihood of armed conflict in the near future," said Thomas Countryman, who was assistant secretary of state for international security and non-proliferation during the Obama administration. "But the document lacks substance. It says less than previous agreements the U.S. has reached with the DPRK, and leaves open key questions that would normally have been resolved prior to such a summit."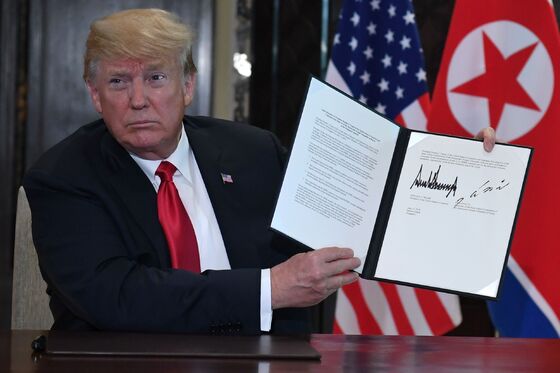 Trump committed the U.S. to providing unspecified "security guarantees" to North Korea, as the two sides promised to continue talks. The communique said nothing about how the two countries would reach the goals, and "complete denuclearization" -- the key point of contention between negotiators -- wasn't spelled out.
The document doesn't include the words "complete, verifiable and irreversible" -- the baseline U.S. demand for denuclearization before lifting sanctions -- and omits Kim's previous pledges to halt missile and nuclear testing. Nonetheless, at a news conference after the signing, Trump insisted that Kim was committed to giving up his weapons.
"I may be wrong," Trump said. "I may be standing in front of you in six months and say I was wrong, I don't know if I'll ever admit that, but I'll find some kind of excuse."
For more on the Trump-Kim summit
Democratic Senate Leader Chuck Schumer called the declaration "permanent proof that we have legitimized a brutal dictator" and said "it is worrisome, very worrisome, that this joint statement is so imprecise." He warned Kim "is liable to backtrack on vague commitments."
North Korea was likely to interpret the communique as evidence that its nuclear might had strengthened its position from earlier negotiations, said Adam Mount, a senior fellow with the Federation of American Scientists in Washington. "Pyongyang will use this language to portray itself as a nuclear power, entitled to neglect its disarmament commitments just like the other nuclear powers," Mount said.
Trump said that the U.S. military would suspend some drills that North Korea has regarded as rehearsals for war, but offered no specifics about which exercises would be affected.
The two sides did succeed in establishing friendlier relations, and Trump told reporters that the leaders had accepted invitations to visit each other's capitals, at the "appropriate time."
"Our whole relationship with North Korea and the Korean Peninsula is going to a very much different situation than it has in the past," he said.
Pressed on whether his discussions with Kim made a difference for thousands of political prisoners held by the regime, Trump said "I think I've helped them." "They are one of the great winners today," he said.
China said the summit should spur the United Nations Security Council to revisit sanctions aimed against Pyongyang.
"Sanctions are a means not an end," said Geng Shuang, a spokesman for the Chinese Ministry of Foreign Affairs. "We believe the Security Council should make efforts to support the current diplomatic efforts and contribute to the political settlement of the Korean Peninsula issue."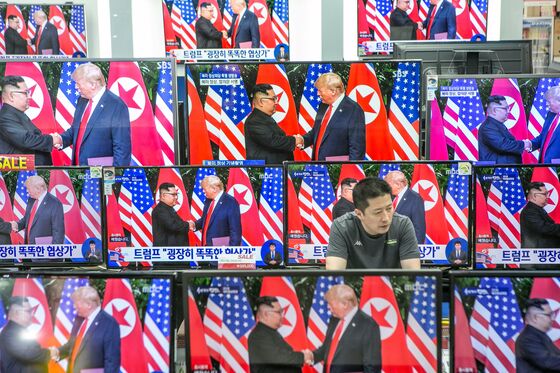 Trump called South Korean President Moon Jae-in after the meeting. The U.S. president "expressed satisfaction" over the results of the summit, telling Moon "they exceeded his expectations," the South Korea's Blue House said in a statement. Secretary of State Mike Pompeo will meet with officials in South Korea on Wednesday, before traveling to Beijing to meet Chinese officials Thursday.
Trump and Kim kicked off their summit with a handshake at the Capella Hotel on Singapore's Sentosa Island shortly after 9 a.m. local time Tuesday -- 9 p.m. Monday in New York. It was the first face-to-face encounter between a sitting U.S. president and a North Korean leader.
"It's my honor, and we will have a terrific relationship, I have no doubt," Trump said in brief remarks to reporters at the summit's start.
"It was not an easy journey," Kim said. "We've had a past that stopped us from advancing, and wrong behaviors and practices sometimes closed our eyes and ears."
Trump was joined in the talks by Secretary of State Mike Pompeo, who played a crucial role setting up the summit, National Security Adviser John Bolton and Chief of Staff John Kelly. Kim was accompanied by North Korean Vice Chairman Kim Yong Chol, Foreign Minister Ri Yong Ho and former Foreign Minister Ri Su Yong.
Just meeting with Trump marked a diplomatic accomplishment for Kim, who has emerged from isolation in recent months and rapidly increased his outreach to other world leaders. By sitting down with an American president -- a longtime goal of North Korea's government -- Kim's regime is advancing its effort to establish itself an international player.
Kim has rejected calls to unilaterally give up his weapons in return for economic aid, and instead has proposed a step-by-step denuclearization process. His public statements and state-run media indicate he wants a deal to ease sanctions, but that he won't give up his nuclear weapons until he feels safe enough to retain power without them.
Shortly after agreeing to the meeting in March, Trump used grandiose language to describe its prospects -- at one point saying that the North Koreans had already agreed to give up their nuclear weapons. In recent weeks, however, he tried to temper expectations -- referring to the meeting at one point as a "get-to-know-you situation."
During his post-summit news conference, before leaving for the U.S., Trump pushed back against the notion that he made too many concessions.
"We haven't given up anything," he said. "I agreed to meet -- I'm here. The meeting was every bit as good for the United States as for North Korea."