Trump Says U.S. to Suspend War Games in Korea After Kim Summit
(Bloomberg) -- President Donald Trump said the U.S. military would suspend some exercises that North Korea has regarded as a threat to its security, following his summit with Kim Jong Un.
"We will be stopping the war games," Trump said Tuesday during a news conference after four hours of meetings in Singapore with the North Korean leader. He offered no specifics about which exercises would be affected.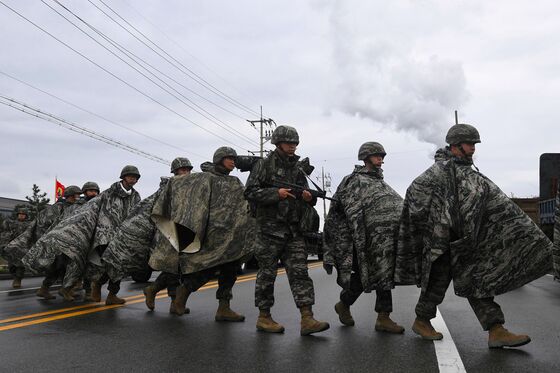 Trump's announcement came as a surprise to the South Korean government. "At this point, we need to know President Trump's exact meaning or intentions," according to a statement released by the office of South Korean President Moon Jae-in. "However we think that it is crucial to pursue various solutions for better dialogue."
Trump said curtailing war games would save money, though he stopped short of pledging to reduce the U.S. military presence on the Korean Peninsula.
"At some point," Trump said, "I want to bring our soldiers home. But that's not part of the equation right now."