Trump Says Summit With Kim Jong Un Going Better Than Expected
(Bloomberg) -- U.S. President Donald Trump said that his summit with North Korean leader Kim Jong Un was going "better than anybody could have expected" and that the two countries would shortly be signing a document, although he offered no specifics.
The two leaders emerged briefly more than three hours into their highly anticipated meeting in Singapore, an encounter aimed at easing decades of tensions between two adversaries that only last year had seemed on the brink of nuclear war.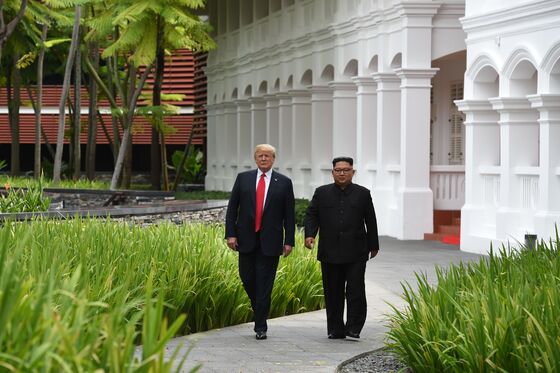 "It's going great," Trump told reporters shortly after 12:30 p.m. local time, with Kim at his side. "We had a really fantastic meeting. A lot of progress. Really very positive, I think better than anybody could've expected. Top of the line. Really good."
The North Korean leader made no audible remarks to the press. Trump added that the two men would be going soon "for a signing," without elaborating. He then appeared to show Kim his armored presidential limousine.
The two men kicked off their summit with a handshake shortly after 9 a.m. local time Tuesday -- 9 p.m. Monday in New York. Despite the warm words, it was unclear whether the first face-to-face encounter between a sitting U.S. president and a North Korean leader could yield the breakthrough necessary to overcome decades of hostility and mistrust.
For more on the Trump-Kim summit
For each leader, the meeting represents a major gamble, and its outcome will be dissected around the globe for a sense of whether one of the world's greatest security threats -- Kim's nuclear arsenal -- can be eliminated. The talks could also lead to a formal end of the Korean War, which remains unfinished after a 1953 armistice.
As the meeting opened at the Capella Hotel on Singapore's Sentosa Island, the two men entered with somber expressions that quickly gave way to smiles. Moments earlier, Trump had announced his chief economic adviser, Larry Kudlow, had been sent to the hospital after suffering a heart attack.
"It's my honor, and we will have a terrific relationship, I have no doubt," Trump said in brief remarks to reporters moments after their history-making handshake.
"It was not an easy journey," Kim said. "We've had a past that stopped us from advancing, and wrong behaviors and practices sometimes closed our eyes and ears, but we've overcome those to come to this point."
Later in the morning, the two men emerged for a brief stroll along a second-floor balcony of the resort. They then held an expanded meeting with top aides, and shifted their discussions to a working lunch. The menu included Korean stuffed cucumber and beef short rib confit.
Trump was joined by Secretary of State Mike Pompeo, National Security Adviser John Bolton and Chief of Staff John Kelly. Kim was accompanied by North Korean Vice Chairman Kim Yong Chol, Foreign Minister Ri Yong Ho and former Foreign Minister Ri Su Yong.
Just meeting with Trump marks a diplomatic accomplishment for Kim, who has emerged from isolation in recent months and rapidly increased his outreach to other world leaders.
By sitting down with an American president -- a longtime goal of North Korea's government -- Kim's regime is advancing its effort to establish its "reputation, respect, and credibility as a nuclear weapon state," said Michael J. Green, senior vice president for Asia and Japan Chair at the Center for Strategic and International Studies.
Drama surrounding the event heightened in the hours before the leaders greeted each other, as the two sides shifted their schedules. After Kim made clear that he would be leaving Singapore by the end of the day, the White House announced that Trump would depart in the evening after delivering a news conference at about 4 p.m. local time.
Trump wants the complete, verifiable and irreversible dismantling of North Korea's nuclear weapons program. Kim is seeking a security guarantee -- and possibly a peace treaty -- and the removal of the U.S.'s nuclear umbrella protecting allies South Korea and Japan.
Kim has rejected calls to unilaterally give up his weapons in return for economic aid, and instead has proposed a step-by-step denuclearization process. His public statements and state-run media indicate he wants a deal to ease sanctions, but that he won't give up his nuclear weapons until he feels safe enough to retain power without them.
Pompeo on Monday drew a firm line, saying the U.S. plans to keep sanctions in place until North Korea eliminates its nuclear weapons capability. Complete, verifiable, irreversible denuclearization, he told reporters, "is the only outcome that the United States will accept."
Yet the top U.S. diplomat added Trump is ready to offer "unique" guarantees to ease the regime's concerns about giving up a nuclear arsenal that provides a deterrent against foreign adversaries while also serving as a key point of national pride.