Trump-Kim Summit Stirs Skepticism as Next Steps Remain Unclear
(Bloomberg) -- President Donald Trump's summit with North Korean leader Kim Jong Un produced a historic handshake, but all of the work to make the deal a reality lies ahead, with no benchmarks for progress, follow-up meetings scheduled or even common agreement on what success would look like.
The lack of any details contributed to an air of skepticism in Washington about what Trump accomplished, and not just from Democrats. While the president won general praise for talking to Kim -- instead of tweeting at him -- even some Republicans were grasping for concrete takeaways and sounding cautious.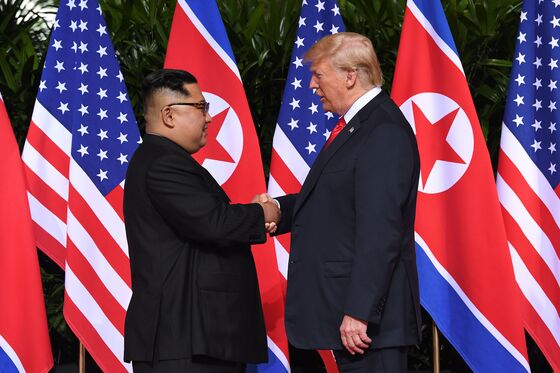 "It's important that we don't lose sight of the fact that Kim Jong Un is a butcher and he is a butcher of his own people," Senator John Kennedy, a Louisiana Republican, said Tuesday. "Trying to reason with someone like that is like trying to hand feed a shark. Doesn't mean you can't do it, but you've got to do it very, very carefully."
Confusion flared while Trump was still in the air on the way home from Singapore. The details were so unclear that a Republican senator tweeted out what appeared to be a misunderstanding that the Trump administration was walking back a pledge to end biannual military exercises with South Korea after Vice President Mike Pence gave a closed briefing to lawmakers. The senator later posted a correction.
Canceling the "war games," as Trump calls them, wasn't even mentioned in the page-and-a-half declaration the two leaders signed, adding to the anxiety about what Trump actually agreed to do. A summary of the meeting published Wednesday by Kim's state-run Korean Central News Agency raised more questions about how much leverage Trump had surrendered, saying that the U.S. president had agreed to lift sanctions.
While Trump told reporters Tuesday that he looked forward to lifting sanctions "at a certain point," he said they would remain until North Korea's "complete denuclearization" -- however that's ultimately defined by both sides -- is verified. China has already signaled that it might be time to relax United Nations sanctions to support talks.
"There's really a very, very far way to go because this initial step was so small and disappointing," said Bruce Klingner, a former deputy division chief for Korea at the Central Intelligence Agency and senior research fellow for Northeast Asia at the conservative Heritage Foundation.
The next developments may come when Secretary of State Mike Pompeo visits Seoul for meetings with his South Korean and Japanese counterparts Thursday before heading to Beijing to talk with Chinese leaders. Trump said he, Pompeo, National Security Adviser John Bolton and other U.S. officials would meet again next week.
The document signed Tuesday by Trump and Kim specified that Pompeo and a "relevant high-level" North Korean official would meet "at the earliest possible date." Trump also promised he would have "many meetings" with Kim in the future.
Trump sees a win in just getting Kim to the negotiating table, even though it was Kim who first proposed the talks. And the president believes the two established the kind of personal relationship that will help cement a deal.
"He trusts me, I believe, I really do," Trump said of Kim in an ABC News interview. "I think he trusts me, and I trust him."
The president enthused in a series of tweets from Air Force One as he flew back over the Pacific Ocean that the meeting in Singapore was "truly amazing" and he "Got along great with Kim Jong-un who wants to see wonderful things for his country."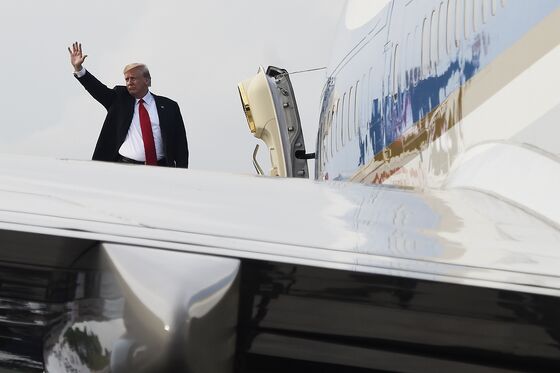 Trump described the next steps only vaguely and offered no specifics on how his administration will verify Kim's actions. "We're going to be following things. We're going to be monitoring things. We're dealing with him ... on a constant basis," Trump said in the ABC News interview.
Keeping Kim engaged in talks may prove difficult given Trump's apparent concessions on military exercises, according to Robert Manning, a senior fellow with the Scowcroft Center for Strategy and Security at the Atlantic Council. "I'm puzzled by why we're giving specifics about what we're going to do, and we have no sense of any progression or even definition of how we're going to get nuclear weapons dismantled, disabled and destroyed," Manning said.
Even fellow Republicans are concerned that Trump is being too credulous of the North Korean leader.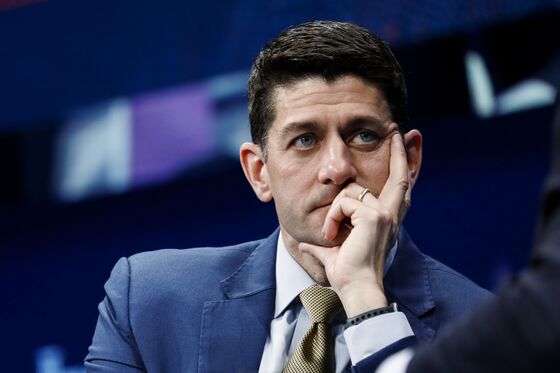 "We must always be clear that we are dealing with a brutal regime with a long history of deceit," House Speaker Paul Ryan cautioned. "Only time will tell if North Korea is serious this time, and in the meantime we must continue to apply maximum economic pressure."
U.S. Senate Majority Leader Mitch McConnell, a Republican, said, "the next steps in negotiation will test whether we can get to a verifiable deal which enhances the security of Northeast Asia, our allies, and of course the United States."
Trump's praise for Kim, including his remark to reporters that the dictator "loves his people," triggered concern, especially among Democrats, that the president might not pressure Kim to improve the treatment of those people.
"Kim was lavished with praise by President Trump as if he was a prospective investor in a Trump real estate development on North Korea's 'great beaches,' not one of the world's worst human rights violators," said California Representative Adam Schiff, the top Democrat on the House Intelligence Committee.