Sorrell Exit to Draw Questions on Pay, Disclosure at WPP AGM
(Bloomberg) -- Martin Sorrell will not be present at this year's annual shareholder meeting of WPP Plc, the advertising behemoth he founded three decades ago. But controversy surrounding his abrupt departure two months ago will guarantee him a central role at the event.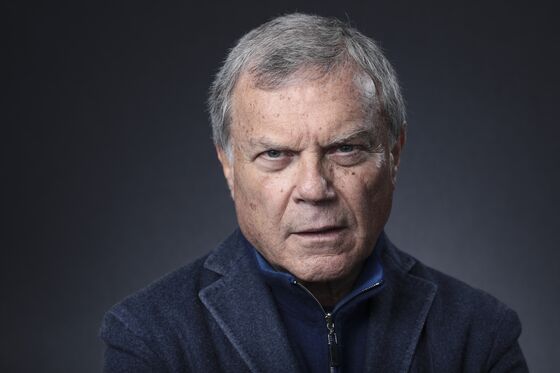 Past meetings have drawn shareholder protests over compensation for Sorrell, long one of the best-paid chief executives in the City. At Wednesday's gathering, investors probably will ask tough questions about the circumstances surrounding his dramatic exit and the outlook for the world's largest advertising company, which is contending with seismic market shifts.
Investors will have plenty of fodder from multiple reports over the last few days that WPP had investigated allegations that Sorrell used company money to pay for a prostitute. The situation has been shrouded in secrecy since a leak in early April about the WPP probe into allegations of personal misconduct and misuse of company assets by Sorrell. A week and a half later, with the investigation completed, he resigned in good standing, with a retirement package.
Sorrell has denied any wrongdoing, including allegations that he visited a West London brothel around this time last year, published by the Financial Times and other news organizations. Neither Sorrell nor the company have publicly discussed details of the departure, citing a confidentiality agreement. WPP has maintained that the funds in question weren't material.
The WPP board is now facing fresh calls to publish the findings of its investigation, including from Liberal Democrat leader Vince Cable. Company Chairman Roberto Quarta is under particular pressure, with shareholder advisory groups Glass Lewis and Pensions & Investment Research Consultants Ltd. recommending against his re-election because of the lack of disclosure, as well as votes against the remuneration report.
Shareholder adviser Hermes Equity Ownership Services backed Quarta but also came out against the pay report, urging the company to reveal more in a statement.
"Given the lack of confirmed information about the reasons for the former CEO's departure, we do not believe we can assess whether his termination package is appropriate," Pauline Lecoursonnois, Hermes' sector lead for consumer goods and retail, said in an emailed statement.
The resolutions are expected to pass, however, given influential proxy firm Institutional Shareholder Services recommended voting in favor for all of them, even while raising concerns about transparency.
Sorrell is in line to receive as many as 1.65 million shares of WPP paid out over the next five years in a retirement package, though the company's weak share performance means he probably won't be paid in full. The shares are worth about 20 million pounds ($27 million) based on WPP's current stock price.
"There'll definitely be a bigger protest vote" on pay, said Conor O'Shea, an analyst at Kepler Cheuvreux. "You can't be seen to be blase about misappropriation of company funds."
Sorrell, who is one of WPP's largest shareholders with about 2 percent, won't attend the annual meeting, according to a spokesman. The 73-year-old, who says he was "extracted" from WPP, is focused on a new venture he announced within six weeks of leaving the advertising firm he started from a maker of wire shopping baskets. In a throwback to the beginning of WPP, Sorrell has taken the shell of a listed company with the aim of building his S4 Capital Ltd. into a global marketing services and advertising technology firm.
Some shareholders are focused on moving on from Sorrell, too, and finding a CEO for WPP who can tackle mounting threats. Few companies of WPP's scale have been shaped around one person's vision in the way the advertising giant has, so his departure has thrown the strategy into question.
WPP shares are down 25 percent over the past year, as major clients like Procter & Gamble Co. have cut marketing spending and investors fret about the rising influence of Facebook Inc. and Alphabet Inc.'s Google.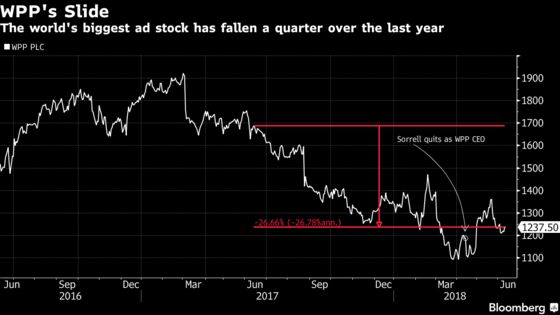 WPP also faces challenges from consultants such as Deloitte and Accenture, which are increasingly competing for digital marketing projects, and has come under pressure to be more transparent about the fees it charges clients, particularly in online advertising.
"With the structural changes affecting the industry, it is now important for the board to look forward, make the right CEO appointment and facilitate a process that ensures all strategic options are considered," said Hermes's Lecoursonnois.
The change of leadership has spurred speculation about the potential breakup of WPP, a network of more than 400 agencies built by Sorrell through acquisition. Mark Read, the co-chief operating officer considered by analysts to be a contender for CEO, has said WPP is looking at selling some of the minority stakes it holds in other businesses, though isn't considering major disposals.
The only way the board will be able to move past questions about Sorrell's conduct will be if it can convince shareholders it's got a new vision for WPP and that there are no more skeletons in the closet, Kepler Cheuvreux's O'Shea said.
"They acted to lever him out, so they have to have another plan," O'Shea said.