House GOP Meets Again on Immigration as Deal Remains Elusive
(Bloomberg) -- House Republicans will meet again Tuesday to try to find an immigration compromise -- with no resolution in sight that would unite the party's divided factions -- as a group of GOP moderates are on the verge of forcing votes on various plans.
Disagreements over a pathway to citizenship for undocumented immigrants brought to the U.S. as children, known as Dreamers, have kept consensus out of reach, along with changes to legal visas and funding for President Donald Trump's proposed border wall.
Twenty-three moderate Republicans, who've been joined by almost all Democrats, need just three more signatures on a petition that would put four different immigration bills on the floor -- against the wishes of GOP leaders. Under House rules, the petition must have 218 signatures by Tuesday for the vote to occur on June 25, although there are subsequent dates in July when a vote could be held.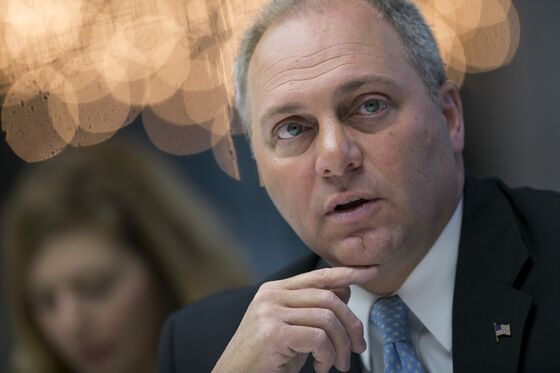 "I don't think they're going to get" the needed petition signatures, said the No. 3 House Republican, Steve Scalise of Louisiana. He said "it would be devastating if something like the Dream Act passed," referring to H.R. 3440, a version of the bill backed by California Democrat Lucille Roybal-Allard that would give broader protection to young undocumented immigrants.
House Speaker Paul Ryan of Wisconsin, who isn't running for re-election but plans to remain speaker until the end of the year, has warned that the petition drive would put Democrats in control of the immigration legislation because they could get a vote on the bill they favor. The speaker has said that could discourage conservative voters who are a crucial part of the party's base and depress turnout for Republican candidates in November's congressional elections.
While Ryan is urging factions of his party to agree on a bill among themselves, he isn't the one writing immigration legislation, according to a senior Republican aide who asked not to be named when discussing private meetings.
Leaders of various GOP factions will huddle in Ryan's office Tuesday afternoon to revisit policy details that would allow moderate and conservative Republicans to support the kind of legislation they say their constituents want.
Republicans like Jeff Denham of California and Carlos Curbelo of Florida, who represent diverse swing districts that are prime targets for Democrats in November, say they'll accept nothing less than a pathway to citizenship for the immigrants brought to the U.S. as children.
GOP hardliners don't want to give this group an advantage over legal immigrants who already are in line to become citizens.
Conservatives, including Jim Jordan of Ohio, say Trump's 2016 election was largely about border security and immigration enforcement. He's said it would betray the GOP's promise to voters to be lenient with undocumented immigrants without significant improvements in security, including the wall Trump wants to build on the border with Mexico.
One compromise option under discussion would use reductions in legal immigration to create a visa option for Dreamers and other young immigrants, according to two people involved in the negotiations. Both people said this strategy has the blessing of White House senior adviser Stephen Miller, an immigration hardliner who persuaded Trump to reject earlier proposals on the issue.
Still, as the GOP negotiations drag on, the scope of any compromise continues to expand. One of the people involved in the talks said lawmakers are also discussing a solution for beneficiaries of the Temporary Protected Status that allowed people from countries like El Salvador and Haiti to live and work in the U.S legally because of civil turmoil or natural disasters in those countries.
Trump last year said he would end the TPS designation for immigrants from some countries, as well as the Obama-era Deferred Action for Childhood Arrivals that protected eligible Dreamers from deportation. Those announcements originally created the impetus for Congress to act.
Republicans leading the immigration talks also want to end the administration policy of separating families of immigrants when parents are detained, according to one of the people involved. This practice has been denounced by human rights advocates. Attorney General Jeff Sessions defends the policy as "zero tolerance" for crossing the border illegally and says it serves as a deterrent to those who would seek to enter the U.S.
GOP leaders have succeeded in persuading some lawmakers not to sign the petition.
Dennis Ross, a Florida Republican who was considering joining the petition, said Tuesday that he won't sign "at this time" because Majority Leader Kevin McCarthy of California promised a floor vote on legislation before August to bolster guest worker programs. Ross and some other Republicans say guest workers are crucial for agriculture, construction and service industries.
"How are you going to sustain this economic growth that we're on the precipice of if you don't have the labor pool to do it?" Ross said.
Three Republicans -- Tom Rooney of Florida, Bill Johnson of Ohio and Randy Hultgren of Illinois -- who co-sponsored a separate measure setting up a vote on four immigration bills also won't sign the petition, according to interviews with the lawmakers or their spokespeople. The petition would require a vote on the same four proposals.