Trump Upends G-7 With Eruption at Trudeau Comments
(Bloomberg) -- Flying from a summit of allies to one with North Korea, Donald Trump blew apart a carefully crafted effort at unity among major economic powers and escalated a fight with a steadfast military ally that buys the most U.S. goods.
Far from backing off Trump's in-flight tweets revoking support for a joint statement from the G-7 summit drafted to appease him, White House trade adviser Peter Navarro said Sunday there's a "special place in hell" for Canadian Prime Minister Justin Trudeau. Trudeau's foreign minister responded by condemning "ad hominem attacks," and Germany and France criticized Trump's comments.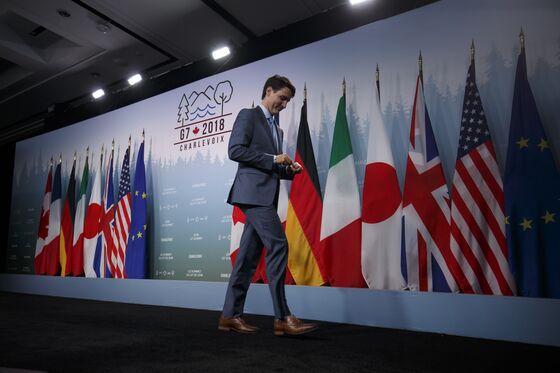 The fiery exchanges reopened questions about whether talks to update the North American Free Trade Agreement can be salvaged, whether there might now be new U.S. tariffs on auto imports, and how world leaders who have tried various ways of working with Trump will deal with his volatility.
"Relationships matter in foreign policy," Richard Haass, president of the Council on Foreign Relations and a former senior State Department official under President George W. Bush, said in a telephone interview. "Imagine if it were reversed, if some Canadian said that about Trump. There would be no way he would be inclined to compromise."
The weekend's G-7 summit in La Malbaie, Quebec, focused largely on Trump, and trade. It was tense at times, producing iconic photos, but ultimately the leaders cobbled together a joint statement backed by all seven nations -- in part because the U.S. abstained from climate pledges and one to curb plastics pollution of oceans.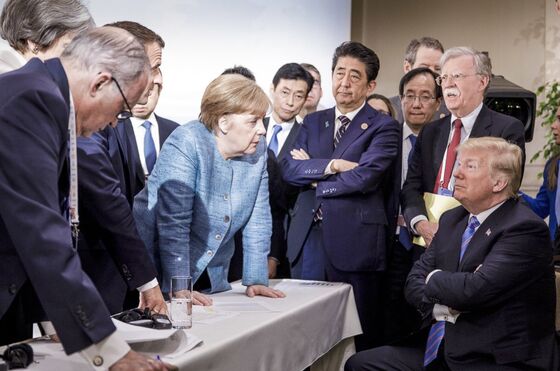 The summit ultimately looked like a success, and Trudeau, the host, hailed it as such. In his closing press conference, he avoided direct attacks on Trump while saying Canada, as a longtime military ally, is "insulted" by U.S. tariffs imposed on grounds of national security.
Trudeau also pledged to proceed with previously announced retaliatory tariffs on certain U.S. products -- which have overwhelming public support in Canada -- and added: "We're polite, we're reasonable but we also will not be pushed around."
It was nothing Trudeau hadn't said before the summit, and it wasn't personal, said Ian Bremmer, president of the Eurasia Group, a political-risk consulting firm. But that made no difference.
Trump, having left the summit Saturday morning, was aboard Air Force One to Singapore for his summit with North Korean leader Kim Jong Un when the closing communique was published online just before 7 p.m. The president tweeted minutes later, saying he was now ordering his staff not to sign the completed document because of Trudeau's "false statements."
On Monday, Trump continued his broadsides against Canada and European trading partners. "Why should I, as President of the United States, allow countries to continue to make Massive Trade Surpluses, as they have for decades, while our Farmers, Workers & Taxpayers have such a big and unfair price to pay?" Trump wrote in a series of tweets from Singapore ahead of his meeting with Kim.
French President Emmanuel Macron's office criticized Trump, saying "international cooperation cannot be dictated by fits of anger and insults," according to a statement obtained by Agence France-Presse. A senior U.K. government official said Theresa May's government stands by commitments made in the communique.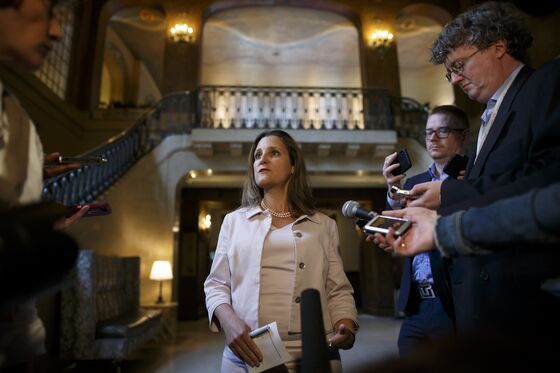 Canadian Foreign Minister Chrystia Freeland reiterated that Canada is indeed insulted by the steel and aluminum tariffs, which she called illegal and unjustified. Nafta talks continue, but Canada will proceed with retaliatory duties, she said.
European Council President Donald Tusk took to trolling Navarro on Twitter.
"There is a special place in heaven for Justin Trudeau," he wrote.
The U.S. attacks continued Sunday. Navarro, appearing on "Fox News Sunday," said Trump was doing "weak, dishonest" Trudeau a favor by signing "that socialist communique" before Trudeau "stuck our president in the back." He did not say which of Trudeau's comments was offensive.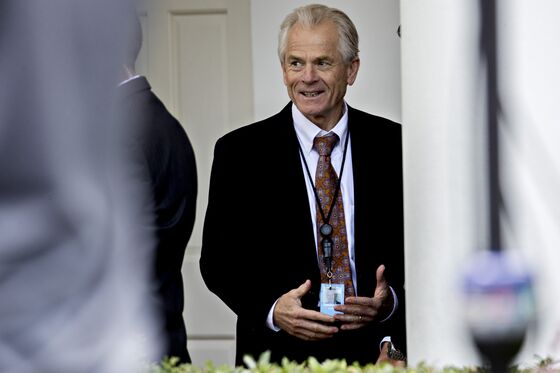 White House Economic Adviser Larry Kudlow suggested the Trudeau comments undermined Trump ahead of the Kim summit as a time the U.S. can't look weak, while acknowledging that the statements were not new.
"It is a historic negotiation and there is no way this president is not going to stand strong," Kudlow said on CBS's "Face The Nation."
"Number one, he's not going to allow the people to suddenly take pot shots at him, hours before that summit, and number two, Trudeau should've known better."