Trump Nears the Rubicon With Allies at NATO Summit in Four Weeks
(Bloomberg) -- U.S. President Donald Trump's outburst after the G-7 meeting in Canada raised questions over his commitment to his closest allies. Their next encounter could answer them.
Trump is expected to attend the North Atlantic Treaty Organization summit July 11-12 in Brussels, a gathering whose goal was to re-affirm the trans-Atlantic partnership -- and that was before Trump withdrew from a G-7 statement on trade, insulted Canadian Prime Minister Justin Trudeau and accused Germany of freeloading on U.S. military spending.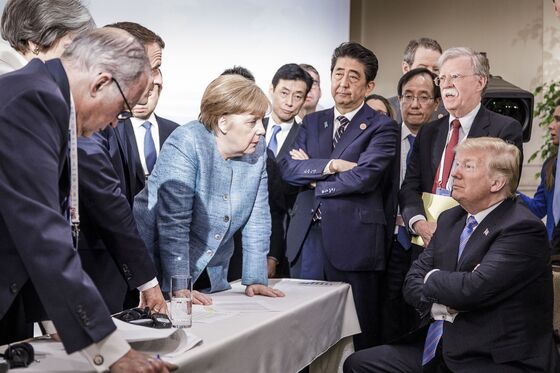 Trump has been sparring with the U.S. allies over trade for several months, but a refusal to reconfirm the U.S.'s commitment to NATO would bring relations to a new low, said Martin Quencez, senior program officer at the German Marshall Fund of the U.S.
"So far, the Europeans have managed to separate security and trade issues with the U.S.," said Quencez, who is based in Paris. "If what happened at the G-7 repeats at NATO, then we are in a worrying situation."
Officials in two different European capitals said there isn't a "Plan B" to configure an international trade and defense system without U.S. leadership or even involvement. One official said many European leaders are hoping November's midterm elections in the U.S. deliver a Democratic majority that would rein in the commander-in-chief.
"There's been such a succession of events with Trump that it's pretty clear the future of the Atlantic alliance is in doubt," said Philippe Moreau Defarges, an adviser at the Paris-based French Institute for International Affairs. "But I don't see anyone in Europe with the talent or the confidence to push through the changes that would be necessary for a real European defense policy."
Greater defense cooperation among EU members had been held up for years by Britain's reluctance to create anything that would compete or overlap with NATO. The U.K. vote to leave the EU has removed one block to a more integrated defense policy, but plenty of others remain, such as members' widely varying military capabilities and policy objectives.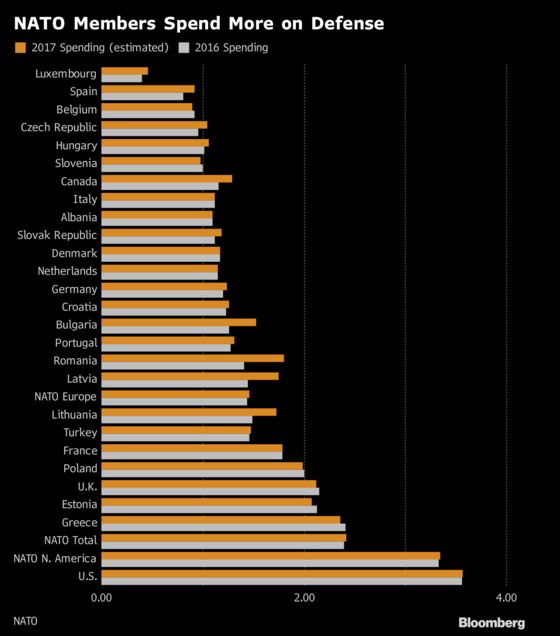 EU leaders last December agreed to a defense pact called Pesco, or Permanent Structured Cooperation, which at this stage is limited to 17 projects in areas such as officer training and marine surveillance. While hailed by the EU Commission as a major breakthrough, permanent joint military forces are a long way off.
The EU lacks capabilities such as a fifth generation fighter jet, a carrier fleet and sufficient air transport to project power on a global scale. Indeed, few member states are willing to spend the sums required to develop such capabilities in the immediate future, limiting the bloc's clout and making it dependent on America's security umbrella.
Chancellor Angela Merkel said in a television interview Sunday that Trump "is right to a certain extent" when he criticized Germany for spending only 1.3 percent of economic output on defense, short of the 2 percent guideline set by NATO. "We need to increase our defense budget," she said.
Quencez said Merkel has made similar promises since Trump was elected with little to show for it. Moreau Defarges said she is too weak politically to push through unpopular increases in military spending.
"Multilateralism is facing a complicated, difficult situation right now," the German chancellor told reporters in Berlin on Monday.
The U.S. accounts for about three-quarters of the military spending of all 29 NATO members, according to the alliance.
Quencez said the so-called "G-6" minus the Americans could continue to work on issues such as trade, climate, and preserving the Iran nuclear accord. But the U.S. can't be replaced militarily, he said.
Both Macron and Merkel have said they'll carry on at the G-7 without the U.S. "The American President may not mind being isolated, but neither do we mind signing a 6 country agreement if need be," Macron said in a tweet June 7. Merkel said in her interview that "we as Europe have to stand up for our principles, potentially together with Japan and Canada."
Jacques Attali, the former head of the European Bank for Reconstruction and Development who has advised French presidents since the 1980s, said the recent blowup doesn't really change things.
"It doesn't matter because the G-7 communique didn't really say anything, it was devoid of real content," Attali said Monday on France2 television. "We have to keep dealing with this man who represents the most important country in the world."