Trump Meets Singapore's Lee Before Historic Kim Jong Un Summit
(Bloomberg) -- Ahead of his much-anticipated meeting with Kim Jong Un, U.S. President Donald Trump paid a courtesy call to their Singaporean host.
Trump met Prime Minister Lee Hsien Loong at the city-state's presidential palace for more than two hours Monday for discussions that were expected to include everything from summit preparations to the U.S.'s tariff threats. The meeting was Trump's only scheduled public event as White House officials prepared for the critical meeting on Tuesday with Kim.
"We've got very interesting meeting in particular tomorrow, and I just think it's going to work out very nicely," Trump told Lee after sitting down for lunch in the Istana palace.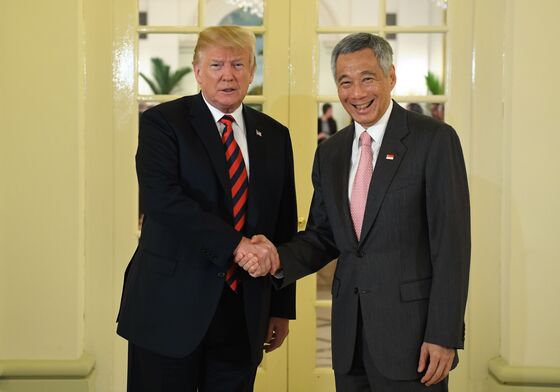 Kim, who met with Lee after his own arrival on Sunday, might leave his room at the St. Regis hotel Monday to tour local "economic facilities," South Korea's Yonhap News Agency reported, without citing anyone.
While the summit reaffirms the U.S.'s close ties with Singapore -- long one of America's best partners in South Asia -- local officials have in recent weeks criticized Trump's efforts to reverse what he says are unfair trade practices. Earlier this month, Singapore's defense minister said the U.S. trade threats were as disruptive to the global order as China's military deployments in the disputed South China Sea.
Trump was also joined at the meeting with Lee by U.S. officials including Secretary of State Mike Pompeo, White House Chief of Staff John Kelly and National Security Adviser John Bolton.
Singapore is hosting this year's meetings of the Association of Southeast Asian Nations, which has seen the U.S. and China jockey for diplomatic influence in recent weeks. The nation also has repaired ties with China after a setback in late 2016, a shift reinforced by Lee's visit to Beijing in April.
The Trump-Kim summit is expected to cost about S$20 million ($15 million), Lee told Singaporean media on Sunday, with security costs representing about half the total. Foreign Minister Vivian Balakrishnan told the BBC that Singapore was paying for Kim's hotel accommodations, an expense made onerous because of the international sanctions on the country.