Pompeo Draws Firm Line on North Korea as Summit Hangs in Balance
Watch this conversation with Raj Bhala, distinguished professor at University of Kansas and BloombergQuint contributor and Neelam Deo, director of Gateway House and former diplomat on what a North Korea denuclearisation could mean for India.
(Bloomberg) -- The U.S. plans to keep sanctions in place until North Korea eliminates its nuclear weapons capability yet is prepared to offer "unique" guarantees to ease the regime's security concerns, Secretary of State Mike Pompeo said ahead of a historic summit between the two adversaries.
The top U.S. diplomat emphasized that complete, verifiable, irreversible denuclearization "is the only outcome that the United States will accept" from North Korea, sending a stern message to Pyongyang before Tuesday's meeting in Singapore between President Donald Trump and Kim Jong Un.
"If diplomacy doesn't move in the right direction, sanctions will increase," Pompeo said. He told reporters that the discussions are "moving quite rapidly and we anticipate they will come to their logical conclusion even more quickly than we had anticipated."
Even hours before the unprecedented meeting, it was unclear if it would produce a breakthrough or collapse in acrimony. Trump and Kim will come face to face for the first time at 9 a.m. local time in Singapore.
For more on the Trump-Kim summit
After an initial greeting in view of the media, the leaders will meet privately, then be joined by top aides for an expanded meeting followed by a working lunch, according to a White House statement. Trump plans to brief reporters following the summit's conclusion, and will leave for the U.S. around 8 p.m. local time. Kim's schedule was unclear.
Negotiators from the U.S. and North Korea met on and off Monday to iron out details ahead of the summit, largely ignoring throngs of reporters as they hopped between luxury hotels. Kim spent most of the day in his room at the St. Regis hotel before taking a city tour in the evening, while Trump had only one outside meeting with Singapore Prime Minister Lee Hsien Loong.
The summit between the two leaders will be a crucial test of Trump's bet on North Korea: that Kim's desire to end his country's economic strangulation and pariah status can prevail over the dictator's fear of relinquishing his nuclear threat.
How North Korea's Citizens Make Their Money (Video)
Yet Trump and Kim have yet to agree even on how to define denuclearization of the Korean peninsula -- the stated goal of the meeting. The president wants the complete, verifiable and irreversible dismantling of his nuclear weapons program. North Korea is seeking a security guarantee -- possibly including a peace treaty formally ending the Korean War -- and the removal of the U.S.'s nuclear umbrella protecting allies South Korea and Japan.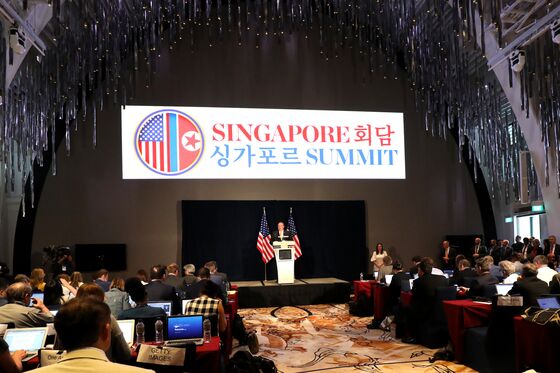 Even as he drew a tough line on lifting sanctions, Pompeo sought to ease North Korea's wariness about giving up a nuclear arsenal that provides a deterrent against foreign adversaries while also serving as a key point of national pride.
"We're prepared to take actions that will provide them sufficient certainty that they can be comfortable that denuclearization isn't something that ends badly for them," he said.
Pompeo's remarks suggest that the U.S. is looking for a short transition toward denuclearization, according to Zhang Baohui, director of the Centre for Asian Pacific Studies at Lingnan University in Hong Kong. That would avoid the prospect of Kim winning sanctions relief for gradual progress while remaining a nuclear power.
"The idea is to force North Korea to do a quick and complete denuclearization and not to drag it out, which will make the United States look like a fool," Zhang said "The problem here is: will Kim accept this?"
The summit, the first ever between a sitting U.S. president and a North Korean leader, is a moment that Trump has had in mind for at least a year. After the 2016 election, then-President Barack Obama told Trump that North Korea was the biggest national security threat he faced, according to a U.S. official.
Trump said June 9 that he expects to know "within the first minute" of their meeting if Kim is serious about giving up his weapons. U.S. officials scheduled to take part in Tuesday's expanded meeting will include Pompeo, Chief of Staff John Kelly, and National Security Adviser John Bolton.
Bolton's presence at the meeting risks provoking the North Korean delegation. The national security adviser's previous remark that disarmament should follow the "Libya model" embraced by Moammar Qaddafi -- who after giving up his nuclear weapons was later overthrown and killed in a U.S.-backed uprising -- prompted an angry reply from Pyongyang.
Depending on how the talks go, Trump has signaled the summit could collapse quickly or stretch into future meetings and perhaps even include a follow-up encounter at the president's Florida golf club, Mar-a-Lago. The meeting Tuesday could pave the way toward a "new era of prosperity, security and peace," Trump said.
On the other hand, he said, "I am totally prepared to walk away."