Malaysia's First Woman Deputy Premier Seeks Tighter Abuse Laws
(Bloomberg) -- Malaysia plans to tighten existing laws protecting children against sexual violence and hold guardians and teachers accountable for ignoring telltale signs of abuse, the nation's first female Deputy Prime Minister Wan Azizah Wan Ismail said.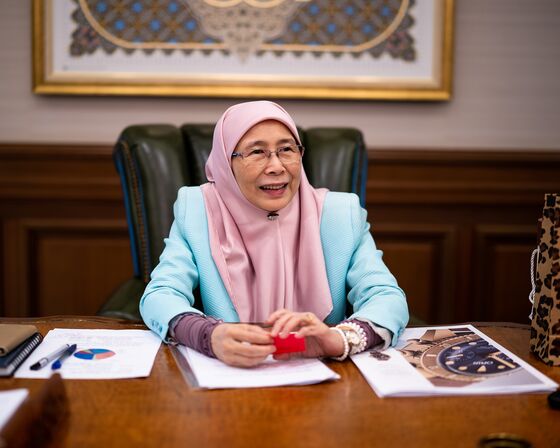 An act on sexual offences against children was passed last year under the former government of ex-premier Najib Razak. It aims to protect minors below 18 years old and makes child pornography and sexually communicating with a child an offense. Wan Azizah, who holds a second portfolio as the minister of women, family and community development, said there's room to strengthen the law to make it more effective.
"Ultimately there have to be laws to hold primary caregivers ignoring child abuse incidences accountable," Wan Azizah, who has nine grandchildren, said in an interview at her office in Putrajaya.
"They are supposed to be the guardians of it, you have to sensitize them to look for telltale signs or be aware and be more attentive," Wan Azizah said. "I've been told horror stories."
The wife of former deputy prime minister Anwar Ibrahim, Wan Azizah first entered politics two decades ago when Anwar was jailed on what he described as trumped up sodomy charges. The trained eye surgeon, who has spent much of her married life as a housewife, went on to establish the forerunner of what is now known as the People's Justice Party, of which she is president.
About a month after Prime Minister Mahathir Mohamad swept to power, his government has moved swiftly to fulfill campaign pledges including scrapping a goods and services tax and shelving infrastructure projects. For her part, Wan Azizah said her ministry is looking at bolstering regulations against domestic violence and sexual harassment, while promoting gender equality, also part of Mahathir's election promises.