Salvini Surges in Italy as Spain Steps In to Help Migrant Ship
(Bloomberg) -- Italians rallied behind Interior Minister Matteo Salvini's decision to block access for an immigrant rescue ship as Spain stepped in to offer shelter to more than 600 people rescued at sea.
Spanish Prime Minister Pedro Sanchez on Monday opened the port of Valencia to the migrant vessel which had been left stranded in the Mediterranean after Italy and Malta refused to grant it permission to dock. As the drama played out Sunday, voters in more than 700 towns and cities up and down the country made Salvini's center-right alliance the big winner in mayoral elections.
"It is our obligation to help avoid a humanitarian catastrophe and offer 'safe haven' to these people, meeting in this way the obligations of international law," the Spanish government said in an emailed statement Monday.
As Italy's populist government dials back its challenge to the European Union's budget rules, Salvini is dramatizing his commitment to turning the tide on immigration. He visited Como in northern Italy last week to meet two bus drivers who had allegedly been assaulted by African migrants. As voters were awaiting the announcement of a coalition deal last month, he posted a video on social media showing a black man plucking a pigeon in the street.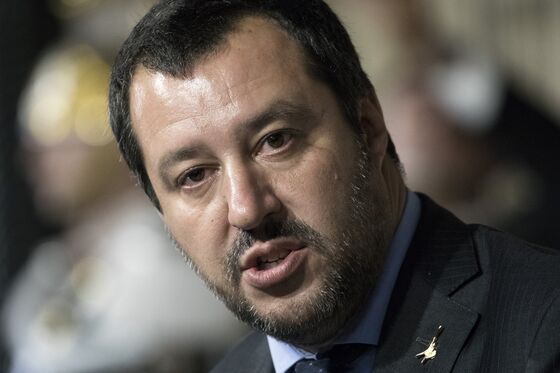 On Sunday, Salvini refused to allow the Aquarius to dock in Sicily and wrote to the Maltese government saying it should take responsibility. The ship is operated by Medecins Sans Frontieres and Sos Mediterranee and, according to press reports, is starting to run low on supplies. Salvini has attacked aid agencies for providing what he called a "taxi service" to migrants from Africa to Italy.
"Our first goal has been reached," Salvini said Monday from the League's headquarters in Milan, insisting Italy will take a similar stance with other immigrant boats.
That approach has made Salvini's anti-immigrant League the rising force within the two-party coalition. The League delivered a strong showing in Sunday's local and administrative elections, helping the center-right alliance to gain control of cities such as Treviso, Brindisi and Vicenza up and down the country. Salvini's coalition partner, the Five Star Movement, was the biggest loser, with its vote declining in many places, including Rome. The ballot was open to 6.7 million voters across the peninsula.
The new administration is still calibrating its approach at the start of its first full week in office, looking to show supporters it will deliver on its promises without sparking a crisis with investors or the EU. With Salvini's public grandstanding grabbing the attention of many voters, Finance Minister Giovanni Tria is seeking to reassure markets with a pledge to head off any questions about Italy's commitment to the euro and to be responsive to investors' concerns.
Italian bonds surged on Monday in response to Tria's comments, with the 10-year spread over German bunds dropping 31 basis points to 237 basis points at 4:24 p.m. in Rome.
In a newspaper interview on Saturday, Tria said he aims to boost Italy's economic growth through structural reforms rather than deficit spending, pledged to consider the sustainability of the pension system in any reforms and distanced himself from plans to issue government paper to pay some suppliers.
Carlo Cottarelli, a former International Monetary Fund executive lined up last month as a potential technocrat premier, had previously estimated that the coalition's plans for new benefit spending and tax cuts would cost as much as 126 billion euros ($148 billion) in their first full year.
While EU rules on public spending and how to share the burden of migration have been two of the populists' main complaints on the campaign trail, the new government's first moves suggest it sees more potential upside from challenging officials in Brussels on immigration.
The Aquarius has a capacity of 500 people and is carrying 629 people that have been saved from sea over the last weeks. One baby boy was born onboard the ship on May 26.