Ex-Comedian Moves to Shut Nationalist Out of Slovene Cabinet
(Bloomberg) -- Marjan Sarec, runner-up in Slovenia's inconclusive elections, has already approached other political leaders to join him in a six-party ruling coalition that would exclude nationalist winner Janez Jansa.
Sarec, a former comedian who shot to fame in a failed presidential bid last year, has already held meetings with outgoing Premier Miro Cerar, Social Democrat leader Dejan Zidan and a party led by former Prime Minister Alenka Bratusek, Sarec's spokeswoman Nika Vrhovnik said by phone Monday. Sarec sent them and other party leaders a letter of intent "to see if there is interest" in building a six-party ruling pact.
With most of the record nine parties entering parliament refusing to work with Jansa, the euro-area country of 2 million is potentially heading for a protracted political standoff. An ally of Hungarian Prime Minister Viktor Orban, whose pursuit of an illiberal state has put him on a collision course with the European Union, Jansa will receive the first mandate to form a government. But he's said he'll surrender it if his rivals show they can muster a majority in the 90-seat assembly before he can.
"A coalition of six parties can only work if each partner is aware that we can succeed by cooperating and focusing on the future," Sarec wrote in an email to Bloomberg on Monday. "Each of the partners should understand that in such a big coalition they won't be able to fulfill all the tenets of their programs."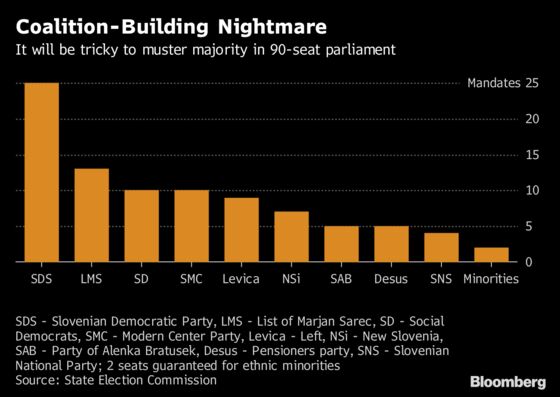 Sarec declined to comment on the option of snap elections. Mauro Giorgio Marrano, a senior economist at UniCredit in Vienna, said a snap vote is possible if there's no new prime minister by the end of summer or if the government is comprised of too many parties. Zidan, the head of the Social Democrats, said he'd refuse to join Jansa and was ready to join a coalition led by Sarec.
The new political leaders also should try to deal with the failed sale of Nova Ljubljanska Banka d.d. even before agreeing on a new government, outgoing Finance Minister Mateja Vranicar Erman said last week.
She called for a political accord on what to do next with the country's biggest bank to avoid penalties from the European Commission. The EU's executive is investigating a decision by Cerar's outgoing administration to postpone the sale of NLB, breaking a pledge that was part of a 3.2 billion-euro ($3.8 billion) bank bailout in 2013.
Discussions about the bank may be a first potential fault line for any Sarec-led government. Sarec, who favors keeping 25 percent plus one share in NLB and selling the rest, called on the outgoing cabinet to call leaders together to make a decision. But Zidan, whose party has resisted selling state assets in the past, said the matter should be handled by the next government and he saw no reason to rush.
"The European Commission should wait for the new government to be formed and then we can talk about what to do next," Zidan said. "Slovenia shouldn't be shoved around by the commission, because it has waited with similar pressing issues in other countries."