Brexit Bulletin: Rebellion Postponed?
(Bloomberg) -- Today in Brexit: Theresa May needs to keep her party together this week as she heads into a crunch vote.
Theresa May might just see off this week's anti-Brexit rebellion. Some rebels have lost their nerve. They don't want to risk toppling May just as she's vulnerable, and have set their sights on another battle next month.
May's key Brexit legislation heads back to Parliament on Tuesday and Wednesday, and the government wants to strip out the 15 amendments inserted by the House of Lords, most of which aim to soften or help thwart Brexit. The Tory rebels had been expected to vote with Labour to try to change May's policy. But late last week one leading rebel said now was not the time. They don't want to risk ousting May just as she's coming under fire from the pro-Brexit wing of her party, and they don't want to weaken her going into a European Union summit at the end of this month.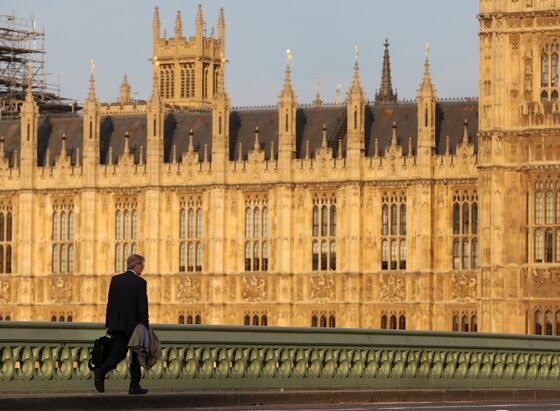 David Lidington, May's de facto deputy, wrote an op-ed in Monday's Telegraph, saying it was "profoundly in our national interest" that members of Parliament voted with the government this week. That follows a joint column by former Home Secretary Amber Rudd and veteran Brexit campaigner Iain Duncan-Smith over the weekend calling for unity. May will address backbenchers on Monday night with a similar message, the BBC reports.
A couple of rebels were still declaring their intention to vote against the government over the weekend, including Ken Clarke, who dismissed the argument that voting against May would bring in a Labour government. That's at the heart of rebels' calculation: Can they vote against May but not bring her down as leader or accidentally trigger a general election?
Now the danger to May could be coming from the other end of the Brexit spectrum. Brexiteers are increasingly vociferous in their criticism, and one piece over the weekend stood out. Andrew Bridgen, a Brexit-backer and one of 62 lawmakers who signed a letter to May in February calling for a clean break with the bloc, wrote in the Mail on Sunday that the whole project was in jeopardy. He said he backed Boris Johnson's vision, set out in a leaked tape last week, for tougher negotiations, and hinted that it could all come to a head this week.
"We are in danger of losing Brexit altogether through a lethal combination of a lack of strong leadership and disloyalty to our manifesto pledge," he wrote.
We've been here before — and remember that while the hard Brexiters have the numbers to trigger a contest, they don't necessarily have the numbers to win.
Lost track of which amendments could land May in trouble? Here's a list of the key battles, this week and beyond.
The Sunday Times said Brexit-backer Arron Banks had more Russian connections than previously reported, citing a stash of leaked emails. Banks, who has long dismissed reports of Russian contacts, is due to appear before Parliament's digital, culture and media committee on Tuesday. Lidington said it was up to the relevant authorities to investigate.
'Sketchy Vision' | Government preparations for Brexit are being hampered by divisions within the Cabinet on major decisions, which has resulted in a "culture of extraordinary secrecy," the Institute for Government says in a report.
The Latest Idea | May's proposal to Brussels last week on the Irish backstop was only partial. It offered a way of avoiding a customs border but said nothing about keeping rules aligned on either side — which is crucial for avoiding checks. Tim Ross reported late on Friday that there's a new idea being considered, and May's Northern Irish allies won't like it: Keep Northern Ireland, but not mainland Britain, aligned with EU rules.
Back to Brussels | Brexit Secretary David Davis is due to meet the EU's chief negotiator Michel Barnier in Brussels. On Friday Barnier was trying to be constructive, saying that talks on the U.K.'s backstop proposal to solve the Irish border issue continue, even as he had a long list of objections. One of the objections is that the backstop clause can't be time-limited. Davis fought hard last week to get May to insert an (albeit vague) end date, only for Barnier to shoot it down 24 hours later. 
Energy Links | The energy industry continues to build more links with continental Europe, increasing the U.K.'s reliance on electricity imports to keep the lights on. To maintain flows after Brexit, the U.K. must agree to remain part of the EU internal energy market. What happens to electricity if there's a no-deal hard Brexit would add so much friction to the system that utilities think it's unthinkable.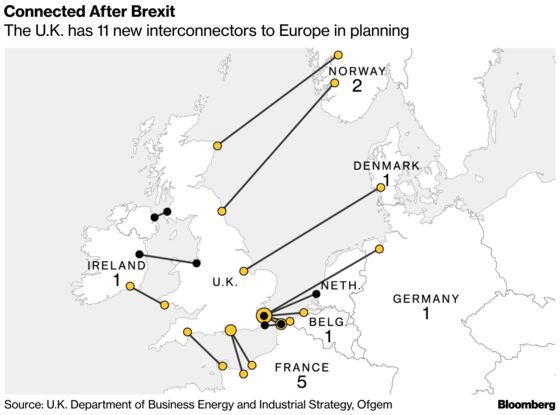 Silver Lining | Brexit may encourage the government to invest more in infrastructure and show the U.K. is open for business, providing a "positive opportunity" for companies like Flybe Group Plc, according to CEO Christine Ourmieres-Widener.
On the Markets | The pound could be in for a wild ride as the Brexit bill goes back to Parliament, Charlotte Ryan reports. Traders will be watching for signs of what kind of Brexit U.K. lawmakers push for and how May is faring, with the pound set to sell off if her leadership looks to be under threat.