Pound Starts Tumultuous Week on Back Foot After `Awful' Data
(Bloomberg) -- A crucial week for the pound began on a bad note as the currency reversed gains after U.K. factory data cast doubts on the health of the economy.
The pound could be in for a wild ride as the U.K.'s Brexit bill goes to a vote in Parliament and jobs and inflation due later this week complete the economic picture. Traders will be watching for signs of what kind of Brexit U.K. lawmakers will decide on and how Prime Minister Theresa May is faring, as well as the chances for a Bank of England rate hike this year.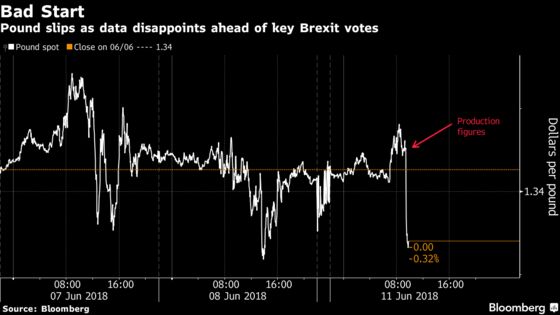 Manufacturing output fell by the most in 5 1/2 years in April and construction posted a smaller-than-expected gain. That led market pricing for an interest rate-hike by November to slip to 87 percent, from 90 percent before the data. Traders will next look to inflation and jobs figures, seen holding steady and crucial to the BOE's view of the economy.
"It's an awful set of numbers to start the week," said Jeremy Stretch, head of Group-of-10 currency strategy at Canadian Imperial Bank of Commerce "On the basis of these numbers the week is not starting well for U.K. rate hawks or for sterling."
The pound reversed earlier gains to fall 0.3 percent to $1.3369, while U.K. government bond yields rose two basis points to 1.41 percent.
Political developments are also likely to leave the pound "on the back foot," according to Jane Foley, head of foreign-exchange strategy at Rabobank. The premium that traders demand to insure against one-week volatility in sterling rose to its highest in almost four months last Thursday, ahead of the June 12 Brexit vote in the House of Commons. Yet strategists said they were surprised it wasn't higher.
This could be because a lot of investors are "sidelined", opting to wait for a clearer path before betting on the pound, said Rabobank's Foley. This means the currency's reaction to political headlines could be more muted than expected, she said. May will meet with backbenchers Tuesday in an attempt to stave off a rebellion on the Brexit bill, while opposition Labour party lawmakers are also divided on the approach.
For Jordan Rochester, an analyst at Nomura International Plc, the longer-term story is positive for the pound, with Parliament's intervention set to usher in a softer Brexit and positive data likely to lead to a BOE hike in August. Yet he is not willing to take a bet on this week's events.
"We've preferred long euro-dollar over pound-dollar in the more recent move and we're just waiting to get past this week before getting involved again," Rochester said.