Merkel Favors U.S.-Russia Summit in Nod to Trump After G-7
(Bloomberg) -- German Chancellor Angela Merkel said she favors a U.S.-Russian summit, seeking to point global diplomacy forward after a tumultuous meeting of Group of Seven leaders.
Russian President Vladimir Putin wasn't invited to the G-7 summit in Canada, although U.S. President Donald Trump suggested he be readmitted. In an echo of Cold War meetings on neutral ground, Austria is encouraging the U.S. to hold a summit with Putin in Vienna, a White House official said last week.
"I'm certainly in favor of that," Merkel said in a German television interview. "I'd even wish for that to happen -- that two presidents meet for an extended period of time."
Merkel's comment was one of two nods to Trump during her hourlong ARD interview after returning from the G-7. She also said the U.S. president wasn't entirely wrong in pressing Germany to increase defense spending, which didn't prevent Trump from a renewed attack on Europe's military outlays.
Almost 18 months into Trump's presidency, Merkel's comments offered evidence of Germany's struggle to adapt to an upended relationship with the U.S. Echoing a series of comments she's made about the erosion of U.S.-European ties, Merkel expressed consternation about Trump's disavowal of the G-7's joint closing statement.
"Reneging in a tweet is sobering and a bit depressing," Merkel said in the interview late Sunday. "It's difficult, it was disappointing this time, but it's not over. Sometimes it seems the American president thinks that only one side wins and everyone else loses."
Even so, dialogue with the U.S. president must continue and global partnerships aren't over, she said.
Merkel said the contentious meeting drives home the point she's made for more than a year: that the European Union needs to stand together to increase its clout on the world stage and that the U.S. is a less reliable partner.
"We as Europe have to stand up for our principles, potentially together with Japan and Canada," Merkel said.
The EU also won't be "taken for a ride" in its trade conflict with the U.S., she said. The EU is ready to impose tariffs on U.S. goods on July 1 in response to Trump's tariffs on imports of European steel and aluminum, Merkel's spokesman, Steffen Seibert, said in Berlin on Monday.
If Europe wants to take its destiny into its own hands, "that also means that we need to do more for our own security," she said. In that context, Trump "is right to a certain extent" when he criticizes Germany for spending only 1.3 percent of economic output on defense, Merkel said. "So we need to increase our defense budget."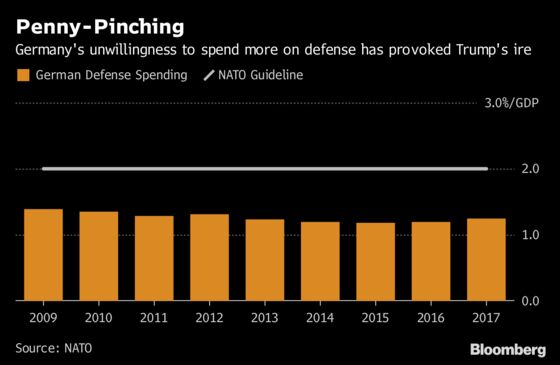 Merkel said last week that Germany should raise defense spending to 1.5 percent of gross domestic product by 2025, short of a NATO target of 2 percent. Trump renewed his attacks, saying on Twitter that the EU should "pay much more" for defense.
"Germany pays 1% (slowly) of GDP towards NATO, while we pay 4% of a MUCH larger GDP. Does anybody believe that makes sense?" he wrote on Monday. "We protect Europe (which is good) at great financial loss, and then get unfairly clobbered on Trade. Change is coming!"