Surprise in `Neglected' Swiss Money Vote Could Spur Franc Plunge
(Bloomberg) -- Don't rule anything out in Switzerland's vote on money.
The plebiscite on Sunday is to decide whether or not the Swiss National Bank should have sole authority over money supply, upending the role of private banks. While polls suggest the Swiss are unlikely to back the proposal, called "Vollgeld" in German, Nordea Bank's currency strategist Andreas Steno Larsen warns that markets have "so far completely neglected the risk of a 'yes'."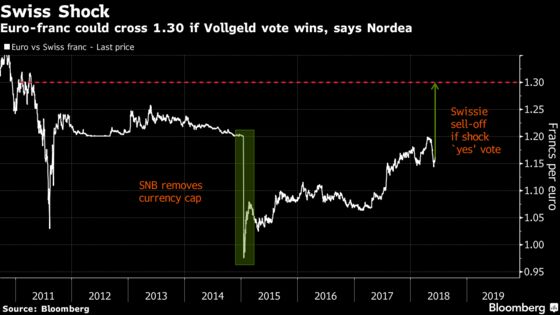 If the public votes in favor, it could radically alter the banking system in Switzerland. With longer-term knock-on effects on the economy far from clear, the proposal has drawn loud criticism from the government and the central bank. The shock could trigger a "money-market liquidity scare" and a swift sell-off in the franc, taking the euro-franc pair to 1.30, Steno Larsen said. That would be a more than 12 percent jump in the pair from current levels.
"Currently we see no risk premium priced into the Swiss franc, which means that a potential referendum 'yes' will be an absolute shocker for financial markets," he added.
The Swiss franc has suffered bouts of volatility before, surging as much as 41 percent against the euro back in 2015 when the central bank discarded its currency cap, yet Vollgeld is uncharted territory. Supporters say such a move could help reduce the threat of asset price bubbles but for SNB head Thomas Jordan, it's a "cocktail" that would be "dangerous and harm Switzerland."
While both the Brexit referendum in the U.K. and the 2016 U.S. elections went against consensus, Swiss pollsters have a decent track record. The country votes on as many as 12 national initiatives a year, since a vote on any topic can be triggered by collecting 100,000 signatures.
"This change is a big experiment, not tried out in any major setting so far," Steno Larsen said. "While our base case is a solid 'no', a referendum 'yes' is certainly not a zero percent probability event."