Zuma Vows to Fight Back as South African Graft Trial Delayed
(Bloomberg) -- South Africa's former President Jacob Zuma warned opponents and ruling party officials against attacking him in public and vowed to prove his innocence after the High Court postponed his corruption case until next month.
Zuma, 76, appeared briefly in the court in the eastern port city of Durban on Friday where the case was delayed until July 27 to enable his lawyers to get clarity on who will pay his legal fees and to give the court time to assess a request by his co-accused Thales SA, a French defense company, to drop charges against it. Prosecutors had said they were ready to proceed.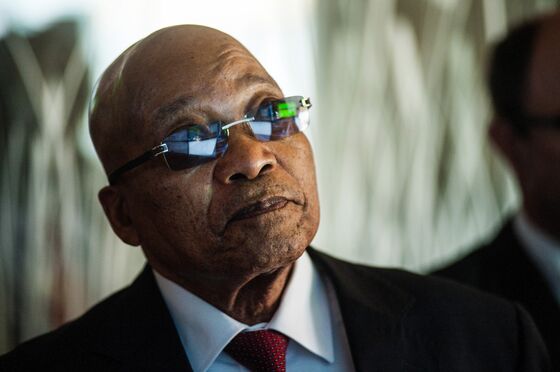 "They say I am corrupt but can't tell me what exactly I am guilty of," Zuma told hundreds of cheering supporters, many wearing ruling African National Congress colors, outside the courthouse. "Some of those who say I am corrupt are corrupt themselves. If I were to reveal their skeletons, you'd be shocked. I am warning them. Just as they choose to attack me in a public forum, I am warning them on a public forum, I am tired."
The state alleges that Zuma, who served for almost nine years as president, took bribes from arms dealers, including Thales, in the 1990s and charged him on 16 counts ranging from corruption to racketeering. The ruling party forced him to step down in February and replaced him with Cyril Ramaphosa, who has pledged to wage war on corruption. Zuma says the case against him is politically motivated.
The move to pursue the charges against Zuma came after the Supreme Court of Appeal in October upheld a lower-court ruling that a 2009 decision to drop the case was "irrational" and that the political considerations that had tainted the investigation were irrelevant to its integrity.
Zuma missed a May 15 deadline to request prosecutors to review their decision to reinstate the case because he needed to finalize how the defense would be paid, his lawyer Michael Hulley said.
In March, the Democratic Alliance, the main opposition party, asked the courts to rule that Zuma must pay his own legal bills, and last month the Presidency said it wouldn't challenge any ruling to that effect.
Zuma still has strong backing within the ANC, with Sihle Zikalala, the party's provincial leader in the eastern KwaZulu-Natal province, and Supra Mahumapelo, the party's chairman in the North West region, among those who attended Friday's hearing to support him.
"We believe that that which is being done to him is wrong," Mahumapelo told the crowd. "We will forever support him no matter the consequences."