May Plans Countryside Lock-in to End Cabinet War Over Brexit
(Bloomberg) -- Prime Minister Theresa May will seek to quash Cabinet squabbling over her Brexit strategy by hosting another away-day at her countryside retreat early next month, as a potentially explosive new proposal emerged.
May is facing a torrid time trying to reconcile Brexit backers and pro-Europeans in her top team, with the fight laid bare spectacularly this week. First there was widespread speculation Brexit Secretary David Davis would quit over her timetable for severing the U.K. from European Union customs rules. Then leaked remarks from Foreign Secretary Boris Johnson called for a tougher approach to negotiations and warned of a Brexit "meltdown."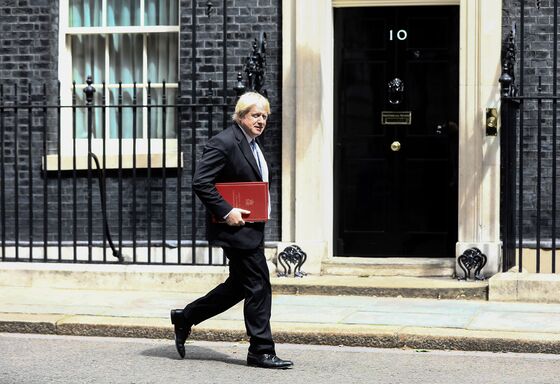 So after the EU summit in Brussels on June 28-29, May will take her warring ministers to Chequers, northwest of London to thrash out a policy documents she had promised to publish laying out the government's vision for post-Brexit ties to the bloc.
The lock-in plan emerged as Brexit negotiations intensified in Brussels, with a radical new option being considered for avoiding a hard border between Northern Ireland and the Irish Republic. May's officials are considering keeping Northern Ireland aligned with EU single market rules, according to a person familiar with matter.
The U.K. needs to come up with a so-called "backstop" solution for the Irish border as part of its divorce deal with the bloc. It has already proposed that the whole U.K. would stay in the EU's tariff regime as part of that backstop.
But May's government has so far said nothing of how it would keep regulations aligned in areas such as goods, agriculture, energy, electricity, and environment policy. The EU's chief negotiator, Michel Barnier, warned again on Friday that this will be crucial to avoiding border checks.
One of the options now being considered is to keep Northern Ireland -- not mainland Britain -- aligned with EU rules. There are potential political difficulties with the plan, as it could enrage the Northern Irish lawmakers who prop up May's government. It has also not yet been agreed by U.K. ministers.
May's tactic of locking away her top ministers until they can agree worked in February, when her Brexit "war cabinet" spent eight hours reaching an agreement on her strategy for a future trade deal.
But the timing will infuriate business leaders seeking clarity over Brexit arrangements, with the white paper originally expected to be ready ahead of the EU summit. On Monday, May hosted business leaders from aerospace to retail who urged her to hurry up.
She first needs to reconcile -- again -- the deep divisions in Cabinet. As it has in the past, May will be hoping the Tudor mansion gifted to the nation at the end of World War I will provide the inspiration. An inscription in a stained glass window marks Chequers as a "house of peace."