Ex-Senate Intelligence Security Chief Charged in FBI Leak Probe
(Bloomberg) -- The former head of security for the Senate Intelligence Committee was arrested Thursday on charges that he lied to the FBI about his contacts with reporters in an investigation into leaks.
James Wolfe repeatedly gave "nonpublic information" to some reporters while chief of security, including one with whom he had a personal relationship with since 2014, and lied about those contacts in a December 2017 interview with the FBI, according to a grand jury indictment.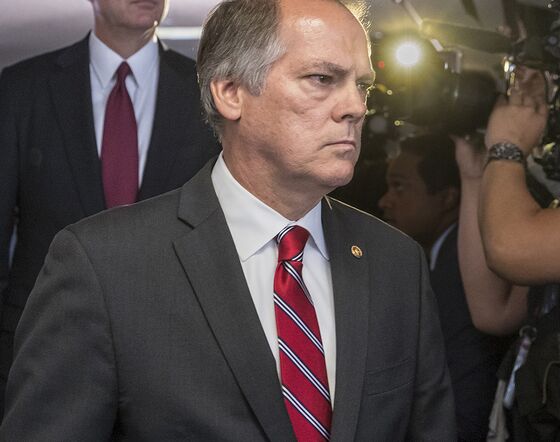 Wolfe, 58, of Ellicott City, Maryland, faces three counts of lying to the FBI, each punishable by as much as five years in prison if convicted. He's scheduled to appear Friday afternoon in U.S. District Court in Baltimore.
The New York Times reported Thursday that one of its reporters, Ali Watkins, had years of phone and email records seized as part of the leak investigation. The Times said that Watkins had a relationship with Wolfe before she joined the newspaper.
Wolfe had been the committee's security director for nearly 30 years.
President Donald Trump on Friday applauded the charges. "I'm a very big believer in freedom the press but i'm also a believer that you cannot leak classified information," he told reporters in Washington on Friday.
The information given to reporters described in the indictment appears to relate to the committee's interest in Carter Page, an adviser to the Trump presidential campaign who traveled to Russia in 2016, including the news that he had been served with a subpoena by the committee.
"The allegations in this indictment are doubly troubling as the false statements concern the unauthorized disclosure of sensitive and confidential information," said John Demers, assistant attorney general for the Justice Department's National Security Division. "Those entrusted with sensitive information must discharge their duties with honesty and integrity, and that includes telling the truth to law enforcement."
The charges should serve as a warning to those who consider lying to law enforcement, said Jessie K. Liu, U.S. attorney for the District of Columbia. "Mr. Wolfe's alleged conduct is a betrayal of the extraordinary public trust that had been placed in him," she said.
Senators Richard Burr of North Carolina and Mark Warner of Virginia, the chairman and vice chairman of the Intelligence Committee, said in a statement that "We are troubled to hear of the charges filed against a former member of the committee staff." They added that "the charges do not appear to include anything related to the mishandling of classified information."
The Senate by unanimous consent agreed to aid the Justice Department in its leak investigation earlier this week.
Attorney General Jeff Sessions last year vowed to crack down on leaks of classified information. Trump has also often complained about leaks.
Burr and Warner, who did not mention Wolfe by name, said in the statement that "this news is disappointing, as the former staffer in question served on the committee for more than three decades and in the Armed Forces with distinction."
Many journalists consider reviews of their records by law enforcement to identify sources as an intrusion on their First Amendment protections. Eileen Murphy, a spokeswoman for the New York Times, was quoted in the newspaper saying: "Freedom of the press is a cornerstone of democracy, and communications between journalists and their sources demand protection."